New course 'The Food Environment' provides hands-on research experience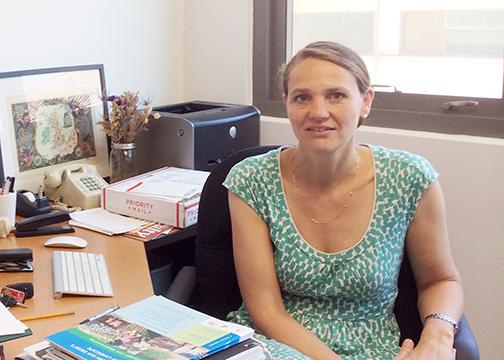 This fall, San Diego State students can enroll in a new research-based course offered through the geography department, titled Community-based Geographic Research: The Food Environment.
Created by SDSU professors Pascale Joassart-Marcelli and Fernando Bosco, the course aims to give undergraduate students research experience so they can learn about the local food environment and its effects.
Geography 590 is a permanent course with a "variable topic," meaning the focus of the course will change with the semesters and different professors teaching the class.
"It includes schools, stores, gardens, restaurants, homes and neighborhood spaces, which influence food availability, choices and knowledge," Marcelli said of the food
environment. "Recent research shows that the food environment has a critical impact on food practices and health."
Marcelli said she and Bosco created the course after undergraduates sought to become involved with research opportunities. The class will allow students to be involved in all steps of the research process besides the writing of a research paper.
Because the class size will include a maximum of 25 students, the two professors will be able to mentor students throughout the process.
The Service Learning and Community Engagement Program at SDSU supported the professors, prompting them to develop the class with the purpose of encouraging "civic responsibility," Marcelli said. The National Science Foundation funds the course through a grant.
Geog 590 is open to all majors and the only prerequisite is the willingness to do fieldwork, Marcelli said. Students this semester will be conducting field research in
the City Heights neighborhood and are expected to spend about four hours per week working on one of the different projects available based on each individual's skill set and interests. The projects will require both qualitative and quantitative approaches and the students will work with a community partner.
Marcelli said there will be four or five different community-based projects to choose from, such as:
1. Teenage eating behaviors: Students will be working with a partner from Hoover High School to collect data and witness the routines and eating habits of teenagers to "better understand the important places where adolescents obtain food, make choices, and gain knowledge."
2. Youth activism: Through gardening, students will be involved in service learning using a hands-on approach.
3. Food environment relationships: Students will analyze the relationships between "place, food, culture and identity among young refugees in City Heights" through photographic content. This project will be conducted in a partnership with a local Bosco said the City Heights area was chosen for its diverse group of people and food environment.
"We selected different neighborhoods in San Diego that we found interesting in terms of the variety of people, immigrant stories, life experiences and what we found to be a challenging food environment," Bosco said.
Emanuel Delgado, a geography graduate student enrolled in the course, described his research interests as concerned with social justice, food availability and local
"I'm excited to be working in City Heights," Delgado said. "I like working in low-income, ethnically diverse neighborhoods, because a lot of times that's where the biggest problems are. I want to help out and give back, so that's why I'm interested in this class."
The professors are excited about sharing this research opportunity with students and hope that it will better prepare students with an enhanced skill set.
"We hope that students will gain a better understanding of the research process and its multiple steps," Marcelli said. "In their professional lives, students are likely to be asked to work on projects and collaborate with others to do so. We expect that this class will prepare them to do so successfully. The class is also designed to help students communicate findings effectively and encourage civic responsibility."
The course still has seats available and meets on Tuesdays from 11:30 a.m. to 12:20 p.m. in Storm Hall 325.