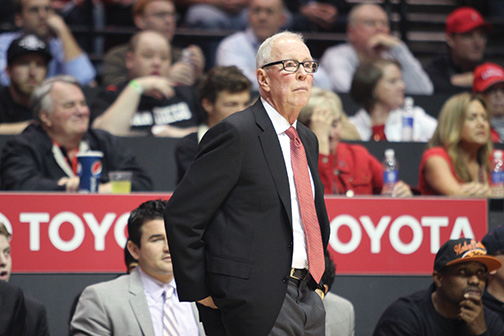 Yesterday, the San Diego State men's basketball team released its 2014-15 non-conference schedule. The schedule features 14 games, including 12 games at Viejas Arena.
Nov. 7: vs. Point Loma Nazarene University (Exhibition)
Nov. 14: vs. California State University, Northridge
Nov. 18: vs. University of Utah
Nov. 20: vs. California State University, Bakersfield
Nov. 24: vs. Brigham Young University (EA SPORTS Maui Invitational)
Nov. 25: vs. University of Pittsburgh/at Chaminade University (Maui)
Nov. 26: vs. TBD (Maui)
Dec. 4: vs. University of San Diego
Dec. 7: at University of Washington
Dec. 10: vs. California State University, Long Beach
Dec. 17: at University of Cincinnati
Dec. 20: vs. Ball State University
Dec. 22: vs. University of California, Riverside
Dec. 27: vs. San Diego Christian College
SDSU's first marquee game comes against the Utes of the University of Utah. This is a biggie for several reasons.
One: ESPN will be airing it as part of its seventh annual College Hoops Tip-Off Marathon, so "The Show" will get a chance to flash its stuff on the world's biggest sports network.
Two: SDSU players get to face Utah guard Delon Wright. Wright is already heralded as one of the country's best college guards. In fact, Fox Sports invited political campaign professional John Pudner to run a statistical predictive formula on the value of the 2014-15 class of college basketball players, and Wright received the highest score—by a significant margin.
Three: any opportunity for a win against the Pac-12 is a great opportunity.
About a week later, SDSU will revive its greatest sports rivalry with Brigham Young University in the opening round of the 2014 EA SPORTS Maui Invitational. The Aztecs and Cougars haven't clashed since the Kawhi-Jimmer days, so fans of both schools should be excited to see the two teams sharing the court again.
The Maui Invitational could also lead to a potential matchup that would be the highlight of SDSU's non-conference slate: a championship matchup against the University of Arizona. The Aztecs and Wildcats have developed quite the rivalry throughout the last few years, playing most recently in the 2014 Sweet 16, and another high-stakes game would only fuel the "Best in the West" rivalry.
San Diego sports fans are always excited for the City Championship between SDSU and the University of San Diego. This year's cross-town clash will come Dec. 4 at Viejas Arena. The Toreros haven't beaten the Aztecs since 2005, but SDSU was lucky to scrape out a 65-64 win last year at USD. "The Show" should have a fun time with this one.
The Aztecs face their first significant road challenge on Dec. 7 when they travel to Seattle to play the University of Washington Huskies. UW lost its best player in C.J. Wilcox, but it returns a young star in point guard Nigel Williams-Goss. Plus, the Huskies belong to the Pac-12. Again, any win against Pac-12 school would look very good come tournament time—especially one on the road.
Ten days later, SDSU will travel to the University of Cincinnati for its most difficult test on the non-conference slate. The Bearcats finished last year ranked No. 15 in the Associated Press poll. They lose their best player in Sean Kilpatrick, but head coach Mike Cronin always puts together a great team and Cincinnati's 13,176-seat Fifth Third Arena is not an easy place to win at. This won't be the same type of challenge as SDSU's trip to Kansas last year, but a win in Cincinnati would do wonders for SDSU's non-conference credibility.
SDSU's 2014-15 non-conference schedule isn't as flashy as its predecessor, which had huge matchups against perennially ranked programs Arizona and Kansas University, and a total of four ranked opponents. But this schedule contains a good amount of weighty opponents in Utah, BYU, Washington and Cincinnati. And with potential matchups against the University of Pittsburgh and Arizona in the Maui Invitational, SDSU could play multiple ranked opponents this year, as well. Plus, SDSU won't play three winnable games in a row like it did last year against Southern Utah University, McNeese State University and St. Katherine College.