SDSU student shares study abroad experiences in Thailand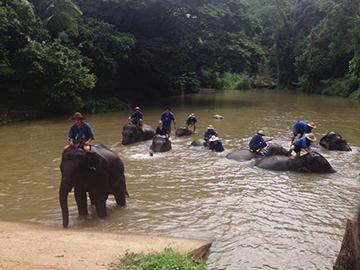 by Rosaura Wardsworth, Contributor
September 6, 2014
Editor's Note: Features contributor Rosaura Wardsworth shares her first-person account on her summer study abroad experience. 
After 17-22 hours on the infamous China Airlines, which is known for being late, we, a group of about 20 health and human service students from San Diego State finally arrived in Bangkok, Thailand. It was about 1:30 a.m. and we were exhausted. We quickly made our way through the terminal, collected our bags and flew out the sliding doors of the terminal only to be greeted by the sweltering night air. It was now 2:00 a.m. and the heat showed no remorse. Thankfully Ah–jaan (which means teacher in Thai) David appeared and showed us to our vans so that we could be escorted to the hotel.
As we passed through Bangkok in the wee hours of the morning, we saw many young Thais still awake riding mopeds and enjoying the wealth of street food Bangkok had to offer. To my surprise, we also saw a few military vehicles. Just weeks before our trip began, Thailand was still in political crisis due to the coup de etat that took place on May 22. The royal Thai army's military chief led the coup. General Prayuth Chan-ocha is said to have taken over the government to restore balance to Thai society. But this was not Thailand's first coup. In fact, Thailand has had over 18 coups since 1932, and the Thai people's patience had worn thin. Thus resulting in a series of peaceful and not so peaceful protests. In retaliation, the government ordered that all radio and television stations stop normal programming and broadcast army content until told otherwise. They also instilled a nighttime curfew to attempt to get a handle on Thai protesters.
But besides the few military vehicles we saw on the road that night. I would never believe the country was in political uproar until a few days later when I met a few journalism students on Kal-san road. The journalism students of Thammasat University, a well-known school, explained how the ban to practice journalism was going to be lifted in a few days and they were excited to finally be able to report on all the political activity that had taken place in Bangkok.
They then asked my roommate and I a series of questions regarding how safe we felt in Thailand, if we would come back and why we had come in the first place. After the interview was over we exchanged information and returned back to our hotel.
During the course of the next week, we engaged in what felt like thousands of activities but none as memorable as the Thai Elephant Conservation in Chiang Mai.
On the morning of Elephant Day, we woke up bright and early and traveled from the hotel to the conservation center around 9 a.m. Once we got there, we took a tram a little further into the center and were greeted by nearly 10 elephants all different in size and appearance. After being allowed to pet the elephants we walked up a hill so that we could view the elephant show. The show was incredible and I could not believe all of the things the elephants had been trained to do. They showed off their soccer skills, balancing skills, and the most amazing of all, their painting skills. After the show ended we were free to buy (500 baht about $15) the elephant masterpieces and almost everyone in our group left with a conservation original.
Once the show commenced we had free time to explore the sanctuary a bit more or to ride the elephants. I chose to ride the elephants; the elephant I got to ride was named tan-ta-wan, which is Thai for sunflower, and was the oldest elephant at the sanctuary at 79 years old. The elephant rides are usually about thirty minutes to half an hour but because tan-ta-wan was so old I was lucky enough to get to ride her for about 2 and half hours. Along the elephant trail we came to a stop because of tan-ta-wan's "fans," a British couple that had been coming to visit tan-ta-wan for the past 12 years. They pet and fed her and even gave us a few bananas to feed her. By the time we got to the end of the trail we only had enough time to feed tan-ta-wan and run back to the coach.
This study abroad trip to Thailand was designed to give the HHS 350 students a global perspective on healthcare but along the way we learned so much more. Thailand is a beautiful country filled with an abundance of culture around every corner, from the "ladyboys" to the elephant orphanages; you can see why Thailand is known as the land of smiles.