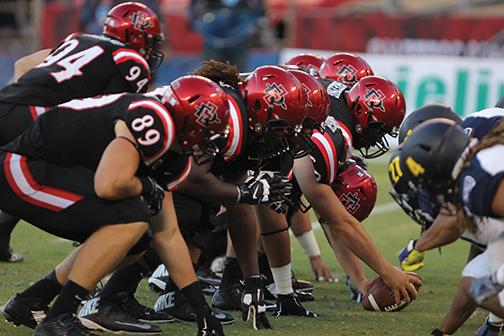 This Saturday, the San Diego State Aztecs (1-0, 0-0 MWC) travel to Chapel Hill to play their biggest non-conference game of the season against Associated Press No. 21 University of North Carolina (1-0, 0-0 ACC).
A win against a ranked Atlantic Coast Conference team—especially on the road—would do wonders for SDSU's program. An SDSU victory would also lend the Mountain West some much-needed credibility after MWC teams got outscored 231-79 in Week 1 games against Power-5 Conference programs.
Let's break down the matchups and see if SDSU can pull off the upset.
Offense:
Pretty much every aspect of SDSU's offense looked solid against Northern Arizona University, barring some early accuracy issues by senior quarterback Quinn Kaehler.
Sophomore Donnel Pumphrey and junior Chase Price complemented each other almost flawlessly in the backfield, and SDSU's talented wide receiver corps performed just like SDSU fans had hoped it would all offseason.
And to top it all off, the offensive line kept Kaehler safe and plowed wide holes open for Pumphrey and Price all night. At least until SDSU's linebackers return to health, offense will be this team's big strength.
The Tar Heels have a potent spread offense, similar to the University of Nevada, Las Vegas spread that humiliated SDSU last year on the road.
It all begins with junior quarterback Marquise Williams, whom UNC head coach Larry Fedora recently named the starter. Williams is very similar in size to Kaehler, but Williams owns some nasty wheels in addition to an above average arm. He accounted for four touchdowns in UNC's Week 1 win against Liberty University—two rushing and two passing.
Combine Williams with a solid foursome of running-back talent and a wide receiving unit that had five players catch more than 25 yards last week, and you'll get a potentially explosive offense.
Advantage: UNC
Defense:
This is a simple fact: SDSU's defensive line will shine all year. If the Aztecs lose, it can almost be guaranteed that it won't be because of coach Rocky Long's front three.
SDSU's linebackers are injury-plagued, but I'd take seniors Derek Largent and Josh Gavert abilities at 80 percent along with sophomore Micah Seau and senior Cody Galea any day of the week.
The secondary—now there's the defense's weakness. With three brand new safeties in coach Long's 3-3-5 defense, SDSU will struggle heavily against the pass early in the season while the safeties learn from experience. The Aztecs should defend the run, though, as long as they tackle efficiently.
A significant portion of UNC's defensive starters return this season after an abysmal year. The team finished last in the ACC in rushing yards allowed. However, this unit looks to be much better.
The linebackers are rock-solid with senior Travis Hughes and junior Jeff Schoettmer. who combined for 159 tackles last year.
The secondary loses Jabari Price and Tre Boston this year, but retain a very deep crop of talent that would pose a threat to most FBS teams.
The Tar Heels' defensive specialty, though, is rushing the quarterback, posting 31 sacks in 2013. Expect more of the same this year.
Advantage: UNC
Special teams:
It appears that SDSU can put a decent kicker on the field in junior Donny Hageman. Sophomore Lloyd Mills proved on Saturday that he could be an explosive punt returner. Senior punter Joel Alesi was solid as always on Saturday, and SDSU's coverage teams contained NAU very well.
Contrary to what was exemplified on the field just one year ago, special teams will be a strength for this team in 2014.
The Tar Heels return all their special teams pieces.
Senior Thomas Moore will kick field goals after making 14 of 19 last season. Senior punter Tommy Hibbard returns after averaging 43 yards per punt last year. Return men Ryan Switzer and T.J. Logan are both dynamic playmakers who return for the second consecutive season at their respective return position.
Advantage: UNC
Prediction: UNC took all the advantages, but all by a slight margin. This will be a fun game to watch.
UNC 38, SDSU 28