The 'buddy system' gets an upgrade with apps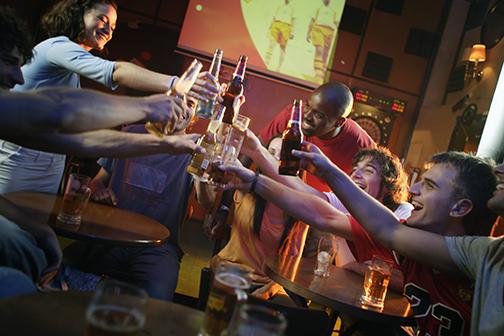 College can be a pretty wild place. Oftentimes, students are too caught up in the partying that they don't pay attention to their own safety. It's important while at a party or walking around at night that students be aware of their surroundings and know what steps to take to protect themselves when faced with an emergency. Thankfully, there are a plethora of mobile apps that promote safety and can help students quickly.
About four out of five college students drink alcohol, and out of those who do, 50 percent do so through binge drinking, according to the National Institute on Alcohol Abuse and Alcoholism. Drinking responsibly is something that not all college students do, but with a simple download, these two apps can assist with safer drinking.
Drunk Mode
This useful, and quite funny, app is there for users at their worst. Drunk Mode has features such as hiding certain phone contacts so users don't drunk call or text. A time limit can be set for up to 12 hours for how long they want these contacts to be disabled.
Another feature is called "Find My Drunk", which allows people to track their other drunk friends via GPS so they don't lose them when out partying. A feature called "Self Protection" can be enabled, which makes the user answer a series of math problems to turn off Drunk Mode.
The age requirement to download Drunk Mode is 18, but that does not mean they are promoting underage drinking. The app is just to help those who choose to drink so they can stay safe and protected.
The app will officially be launched in San Diego on Friday, Sept. 12.
Last Call
This other drinking app calculates a person's blood-alcohol level to see whether or not they are safe to drive. It works when the user logs their alcohol consumption as they're drinking. They must keep an eye on how high their blood-alcohol level is getting. If the user is too drunk to drive, they can use the app to call a cab.
The app also has a list of DUI lawyers for those who may need one, but please, don't drink and drive.
Between 20 and 25 percent of women will experience a completed and/or attempted rape during their college career, according to Campus Safety Magazine. As sad as that is, it's true that college campuses can be a dangerous place, especially at night and while intoxicated. These next two apps are great resources to have handy on your phones to keep you safe.
Watch Over Me
This personal safety app is there to "watch over you," especially when feeling unsafe. Users can set up GPS tracking for however long until they check in that they are safe. If they do not check in, Watch Over Me will send out an alert stating the users location to their emergency contact list.
Other features include alerts when entering high crime areas, setting up areas such as school or home so tracking will stop while at those places, and an automatic emergency alert that triggers when the user shakes their phone. The person's phone camera will also turn on when triggered to record what's going on.
Guardly
With Guardly, users can easily alert family, friends, and police when in an emergency. The app allows up to 15 contacts and will send alerts via email, text, and phone call. Users can even directly contact 911 fast and easy.
This app is ideal for college students because they can sign up as part of their college campus using a university email. When enabled, the emergency alert will also connect with the campus police.
Additionally, users can create different groups. For example, one for their family back home and one for friends at their college. This way, the emergency alert will only send out to the contacts that are in the user's area.