Mental illness in need of dialogue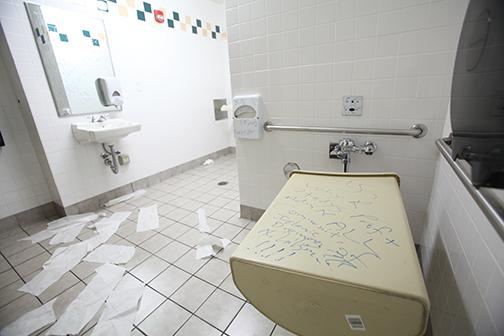 Let's be real Aztecs, when we heard the reported news about the naked 53-year-old man eating toothpaste and vandalizing the Education and Business Administation building this past weekend, our first reaction was to laugh and to laugh hard. The incident was a bizarre, ludicrous joke to many of us and I too laughed about it while using the bathroom in EBA recently. This incident was a testament that truth was truly stranger than fiction.
However, while truth may be stranger and funnier than fiction, we're missing the real truth behind the story. We need to stop laughing and look beyond what this narrative tells us about our perspectives and our country.
At face value, this story was mere hilarious gossip. However, the great backbone of this story is a dialogue about how we approach mental illness in the U.S. The past couple of years have consisted of continuous conversations about how culture deals with the consequences of derailed mental illness. The tragic and heartbreaking narratives of tragedies sown from mental illness this year have been countless, ranging from Elliot Rodger's "retribution," to the Aurora shootings and the suicide of Robin Williams. The consequences of mental illnesses gone derailed are devastating.
However, it's very telling of our culture that these dialogues about mental illness only begin once we see the consequences of it. Why do we only talk about these issues once things go bad? Why don't we focus on solutions to these issues?
These questions are the very reason why we should be afraid of the story of the naked man in EBA. With an influx in tragedies resulting from mental illnesses lately, our culture has become desensitized toward it.
With shows like "My Strange Addiction" and "The OCD Project," capitalizing and tokenizing those with mental illnesses, we aren't shocked, but we laugh at mental illnesses. We are mystified and entertained by it, observing the sufferers with the same zeal as we look at exotic animals.
This destructive perspective on those who suffer from mental illnesses perpetrates prejudice and discrimination and allows for unjust insurance policies. But when a tragedy occurs, we see an overwhelming surge in mental health advocacy. We want to look down upon those struggling with mental illness, but we are compassionate when tragedy strikes.
What scares me most about the reactions to the news of the man in EBA is how it was portrayed as a non-issue and treated as a joke. The man, who was sent to a mental health facility for evaluation, committed the vandalism in hopes of making a "statement" in the form of anti-semitic writing on whiteboards and in the bathrooms. What if he had a gun? Would we treat it as lightly?
He called 911 to report his actions after he was finished making his "statement." This situation, in which the perpetrator calls 911 to report something unsettling, is something that has been mirrored in both the tragic shootings that occurred at Isla Vista and Seattle Pacific University.
Aaron Yyarba, who was the perpetrator of the SPU shooting this year, repeatedly called 911 in 2010, four years before his shooting, to report his desire to hurt others and himself. He also boasted an uncontrollable rage within himself. He was discovered two years later, drunkenly ranting in the streets telling the SWAT team that picked him up to "make him famous." This year, he showed up to the sciences and engineering building at SPU, armed with a shotgun, and killed one freshman and wounded two others. He was then tackled and stopped before he carried out his plan to kill as many people as possible.
Elliot Rodger's parents also called the police worried about the mental state of their son.
These instances prove that this case needs to be treated more seriously. History has proven before that recurring behavior like this is indicative of a tragic future. However, is the solution to lock those who are mentally ill in jail just because they're a danger to themselves as well to society?
It's this ablest and hypocritical view which has unjust effects in terms of how our justice system treats and imprisons those who struggle with mental illnesses.
The Bureau of Justice Statistics estimated that around 1,264,300 adults who suffer from mental illnesses were incarcerated in 2006. On top of that, more than 18 percent of the homeless that are in homeless shelters suffer from mental illnesses.
The desensitization of mental illness narratives is a destructive process that delegitimizes the struggles of those who do have mental illnesses and allows for mass incarceration rates and mass mistreatment of mental illness sufferers. A stigma can go a long way.
We are living in the Stone Age in regard to how we treat mental illness in the U.S. We need to stop focusing on solving the issue once there are consequences and push for better mental health care and treatment for patients.
If we don't start taking narratives, like the one we experienced over last weekend, seriously and treat mental illness patients like human beings and not as jokes for our entertainment, we will see the consequences. We will see tears and we will see blood.
Blood, unlike tears, doesn't wash away easily.