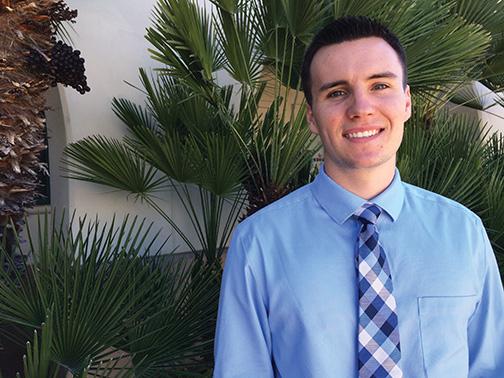 For the first time in more than 40 years, San Diego State will be home to a new fraternity house.
Construction for Theta Chi's future home began in August and will be the largest fraternity house on the west coast at 24,000 square feet, according to the fraternity. The building will be three stories tall and have an underground parking garage, library, chapter room and recreation room to better accommodate the social fraternity.
"It'll be the nicest fraternity house at State," previous national president and SDSU alumni David DeVol said. "It'll be an outstanding place to live and a great place to meet both for undergraduates and alumni. It'll help us attract members and will be something to be proud of."
SDSU's Theta Chi is part of 139 active chapters. It works with several philanthropies, including the United Service Organizations, the National Bone Marrow Registry and the Starlight Children's foundation. At SDSU they currently have the highest GPA of all the fraternities at 3.2, founding president Cody Rominger said.
Theta Chi was the first national fraternity established at SDSU in 1947. In 2008 the fraternity was suspended from the university along with six other fraternity groups in connection with drug dealings, but Rominger reestablished the fraternity in 2012.
"I just see all these successful people that have been through this organization and it's unfortunate that a couple bad apples ruined a true legacy that we have built on this campus for half a century, but it happens," Rominger said. "I like to argue that the chapter now is as strong as ever."
Rominger said the fraternity reinitiated with 51 members and has grown to 95 members since.
The new house will accommodate 41 members and include suites for six executive officers and one graduate advisor.
DeVol said costs for the construction project are estimated at $4 million, which will be funded by Theta Chi alumni donations, bank loans, and loans from the national fraternity.
Rominger attributes the new construction project to Theta Chi alumni.
"These men who have had fruitful successful lives understand and appreciate that Theta Chi is the foundation where it came from and Theta Chi gave them the tools early on to blossom into the successful lives they've had," Rominger said. "I think that this house is a symbol and a testament of the success of Theta Chi at San Diego State."
The new house will be located on 55th Street and Linda Paseo and is scheduled to open next fall.
"I think this house will basically hold intact the ideals of our fraternity and really make a positive impact on the lives of thousands of students who will come to San Diego State," Rominger said.