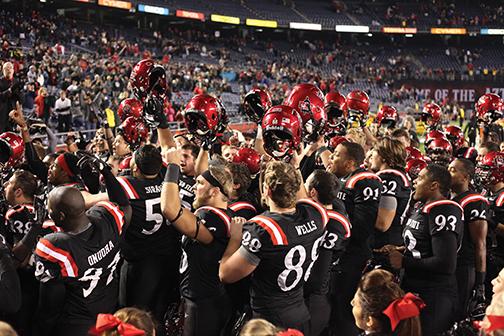 Coming off four consecutive bowl game appearances for the San Diego State Aztecs, the team is primed to make a run at the Mountain West Conference title. A look back at the 2013 MWC standings tells you the Aztecs missed being conference champions by the hair on their … never mind.
In all seriousness, the Aztecs missed being conference champs by a field goal. Do you remember last season's home game against California State University, Fresno? I sure do. I remember a Quinn Kaehler-led offense that put together a dime piece of a drive deep into Fresno territory with time running out. I remember the special teams unit lining up for a game-winning, chip-shot field goal. I also remember that field goal coming nowhere close to the middle of the uprights. It's like the pigskin itself looked at "The Show" and waved goodbye to a coveted conference championship.
Had the field goal been good, the Aztecs and Bulldogs would've swapped conference records and SDSU would've hoisted the trophy. But alas, it's now 2014 and the Aztecs have a great shot at being this year's MWC champions. My colleague, Mike Heral, says the Aztecs and Bulldogs have some of the same issues. No offense, Mike, but that's just not the case this season, and here's my reasons why:
Quarterback
Remember Fresno State's prolific spread-style offense from a year ago? Well, it was led by a guy named Derek Carr who is now a starting quarterback in the National Football League. In 2013, Carr set FBS records with 5,083 yards and 50 touchdown passes against just eight interceptions. That kind of production won't be replicated anytime soon for the Bulldogs.
Meanwhile, Aztec senior quarterback Quinn Kaehler is coming off a good season. Considering he didn't even start last year as SDSU's quarterback, it's impressive he was able to put up more than 3,000 yards and throw 19 touchdowns with only nine interceptions. While he hasn't looked the same through the first two weeks of this season, it's still in SDSU's favor to have the leader of its offense returning.
Home Schedule
Have you seen the Aztecs' home schedule this season? It's laughable. Minus the home opener against Northern Arizona University, the rest of the games are as follows:
Week 4: University of Nevada, Las Vegas
Week 7: University of Hawaii
Week 9: University of Idaho
Week 11: Air Force Academy
Week 12: California State University, San Jose
Holy Bob Toledo that's a favorable home slate of games. Considering the level of competition the Aztecs will face on the road and outside of the Mountain West, they should be able to handle all five of these teams no problem. Should is certainly the key word in that sentence, but you get the drift.
As Mike eluded to, the Aztecs were much better on the road than they were at home a season ago which hopefully translates to this year's team; SDSU's away opponents include the Oregon State University Beavers next Saturday and the infamous Bulldogs one week after that. But a watered-down Mountain West conference and winnable home games will help the Aztecs lift the conference trophy at the end of this season.
Special Teams
Don't look now Aztec nation, but we actually have a kicker who can split the uprights. Junior Donny Hageman has made 3 of his 4 field-goal attempts this season with a long of 49 yards and is 8-for-8 on extra point attempts. Senior punter Joel Alesi has shown he's got skills too, averaging 39.7 yards-per-punt. Don't let the sub-40-yard average fool you—sometimes it's more about placing the ball within the opponent's 20 yard-line than it is kicking with power.
It's for the above reasons I professionally disagree with my fellow writer and believe the Aztecs will win the Mountain West Conference.
WARNING: Obtaining this conference title will not be pretty. The process will be gritty, hard to watch and at times, heartbreaking.
But at the end of the day, I Believe That We Will Win.
This piece is a part of a pro/con set regarding the Aztec's upcoming season. Check out Mike Heral's opposing argument here.