Aztec football: defensive grade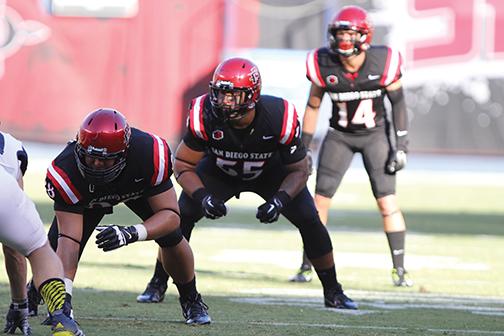 It is important to give credit to the defense after the Aztecs' first two games. It may be difficult to grade their work since they first faced an easier opponent against Northern Arizona University, but last Saturday they were outplayed by a nationally ranked team—the University of North Carolina. As of this moment, I give them a grade of a C+ since they showed good qualities against NAU, but were unable to protect the result giving up 17 fourth-quarter points in a loss against UNC. The Aztecs' defense couldn't hold on to a 14-point lead that they held in the third quarter against the Tar Heels. Overall, SDSU's defense has to be more solid if the team aspires to win more games than it did last year. After two games, they have played poorly on the pass rush only recording just two sacks this season.
On the bright side, some key players on defense have shown up, particularly freshman redshirt defensive back Trey Lomax. Lomax currently leads the team with 16 tackles, so keep an eye on him. Senior J.J. Whittaker is one of the leaders of the defense as another defensive back and has also reached double digits in the tackles category with 13. Other key players on the defense are junior defensive linemen Jon Sanchez, and sophomore linebacker Calvin Munson who have each recorded an interception this season.
Grade: C+