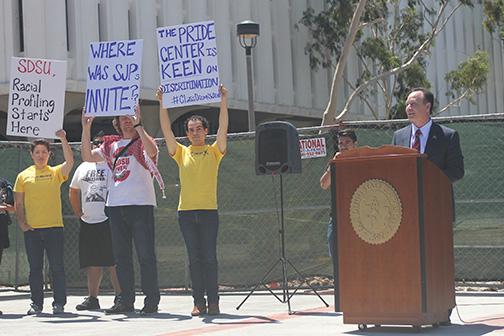 Over the summer when I wrote an article condemning a hateful meme posted by our school's branch of Students for Justice in Palestine, I was oblivious to the amount of rage I would receive from supporters of this movement. In just a day of the article's publication, I received more than 30 Facebook messages, a majority of them condemning my stance calling me a "zionist pig," a "racist apartheid supporter" and my favorite, a "baby killer."
While it still baffles me as to how writing an article would constitute me as a "baby killer," I revisit this memory in light of Hatem Bazian's recent call-to-action.
On Aug. 22, Bazian, University of California, Berkeley professor and founder of SJP, announced an "International Day of Action", calling for branches of SJP to academically, culturally and socially boycott and isolate any organizations supporting Israel or Jewish students on Sept. 23. This would be accomplished by calling for universities to end study abroad programs in Israel, end joint research with Israeli institutions and professors, and end university involvement with Jewish student organizations. Bazian calls to members to rally, protest and even engage in civil disobedience.
I revisit the messages I received over the summer because the best way to understand this protest and movement is to understand the rhetoric of its protesters. Unfortunately, it's a rhetoric fueled by hostility and more so, blind aggressive behavior that doesn't see the futility behind protests fueled by violence.
This call to protest is something to be feared. While SJP has previously held anti-Israel rallies, "Day of Action" could potentially be the biggest demonstration of anti-Israel slander and violence if Bazian's call is sought out.
While we should encourage the exercise of freedom of speech on campus, hateful and anti-Semitic protests in the form that Bazian is demanding from students occur in "expression of freedom of speech," don't help the cause, but actually destroy it.
The protests resulting from the BDS movement have been leading to a spike in anti-Semitism, rather than achieving true justice for Palestinians. "Day of Action" events in Germany, London and France have proven these events started peacefully and ended in violent riots attacking Jewish people in the area, regardless of their views on the conflict. This violence hinders the progress that should be made.
In August, a Jewish student at Temple University, Daniel Vessall, approached the SJP table to engage in a conversation about the conflict. According to an eye-witnesses, an SJP supporter allegedly punched Vessal, while supporters shouted derogatory terms such as "Zionist pig" and "kike."
Vessal reportedly covered the Israel flag in his residence window following the incident.
While Temple's SJP branch and the attacker denied all allegations of racism or anti-Semitism ,and apologized for the act of violence, this incident is one of a larger narrative insinuating a risking hostility toward Jewish students on campus.
Even the timing of the event itself is a decision that insinuates the true agenda of supporters. This "Day of Action" protest happens to fall on the eve of Rosh Hashanah, otherwise known as Jewish New Year.
This also happens to coincide with the anniversary of the day when Auschwitz guards gassed 200 members of the Sonderkommando, a group of concentration camp prisoners who were tasked with disposing of gas chamber victims.
To anyone spiritually or culturally Jewish, the placement of the "Day of Action" is an act of aggression that attacks their spirituality. However, is it just a coincidence?
"Rosh Hashana is one of the holiest days in the Jewish New Year," computer science junior Michael Kagan said. "It seems only fitting that those who wish to harm or show hatred toward the Jewish people, would pick such an important day in the Jewish calendar as a way to mock and defame the Jewish religion."
Such intimidation, harassment and discrimination that will be a result of the protests on that day, is a violation of Title VI of the Civil Rights Act of 1964, which was amended in 2010 to include protection of Jewish students from these acts in educational institutions.
I fully support SJP's right to protest. It's the manner in which they choose to protest on this campus that makes all the difference.
If they should choose to move toward social justice for Palestinians, SJP should disregard Bazian's call to action.
Unless they do so, this protest will be as aimless in achieving the justice and peace we all so desperately want.