Boyhood flick matures into classic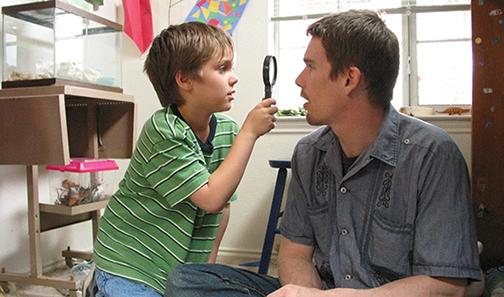 by Courtney Brown, Staff Writer
September 18, 2014
Leave it to director Richard Linklater to take something ordinary and craft it into a work of cinematic genius. His latest film, "Boyhood," is an epic narrative about childhood-to-adulthood transition over a span of 12 years, as seen through the eyes of a boy named Mason, played by Ellar Coltrane.
It's similar in concept to Linklater's "Before" trilogy, in which the director checked into the lives of the same two characters every nine years. However, this time he filmed 39 days out of the year between 2002 and 2013 with his cast, which included Ethan Hawke and Patricia Arquette.
We are introduced to Mason at the age of six and see him age until he turns 18. The performances of the young actors side by side with Hollywood greats are more than compelling. It's almost like Linklater is constructing some sort of social experiment as the audience is invited to literally watch this boy grow into a man on screen.
The film transcends the barriers of typical coming-of-age stories by looking at mundane realities of life on a higher emotional scale in a unique way. "Boyhood" begins with a six-year-old Mason lying with his back against crisp, green grass and face to the clouds — a perfect picture of childhood innocence. As time rolls on, we're reminded of the milestones of growing up: first kisses, divorce, presidential elections, and graduating high school.
However, the film captures those little, in-between moments that may have slipped through the cracks of our memory as well. Like a familiar taste, they come right back to the forefront. The fads, sibling rivalries, relationships, financial woes, failed marriages were all small snap shots piecing the film together as a very reflective memoir.
For millennials, "Boyhood" hits even closer to home. Mason is 18 years old and enters college by the end of the film.  It's easy to find connections to one's own life as he matures alongside the world around him.
"Boyhood" provides audiences with a nostalgic narrative meant to catch glimpses into overlooked memories in their own lives. Linklater and the film's stunning cast effectively transform raw realities of daily life into a heartbreakingly poetic work of art.
Five out of five stars.