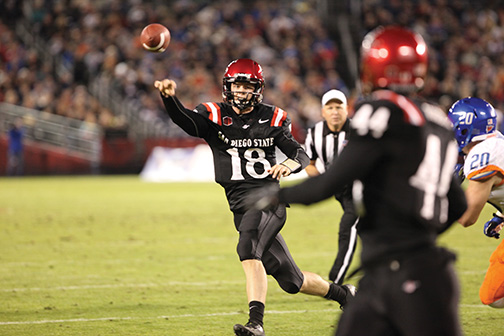 Lots of fans in the San Diego community thought the Aztecs were being underrated when Las Vegas rated SDSU the 10-point underdog against the Oregon State Beavers.
Turns out Vegas was either overestimating SDSU or severely underestimating the Beavers. Either way, the Aztecs leave Corvallis tonight with a 28-7 loss.
SDSU began the game just about as well as head coach Rocky Long could hope for: a dominating eight-play touchdown drive culminating in a 2-yard touchdown run by sophomore running back Donnel Pumphrey.
That's about the only bright spot SDSU's offense had tonight.
Senior quarterback Quinn Kaehler had another tough game, going 14-26 for just 106 yards and two interceptions. But to be fair, Kaehler had little protection from his offensive line and his receivers dropped some easy passes. Also, reports indicate Kaehler may not have been 100 percent throughout the game with a hamstring issue.
Pumphrey had a solid night, carrying it 17 times for 89 yards and a touchdown. However, junior running back Chase Price only had one carry for zero yards. One has to wonder why the second running back of a tandem-back system only got one carry the entire night.
In the end, OSU senior quarterback Sean Mannion and the Beaver running backs were too much for SDSU's defense to handle.
Mannion finished the game 24-31 for 275 yards and a pick. He also became Oregon State's all-time passing leader tonight.
Senior Terron Ward and junior Storm Woods combined for 102 yards for OSU on the ground and added four touchdowns.
SDSU next plays University of Nevada, Las Vegas, at Qualcomm Stadium next Saturday at 5 p.m. Pacific Time.