New LGBT certificate program offered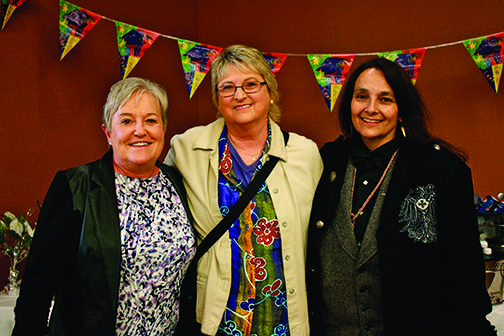 San Diego State is now offering a post-baccalaureate Lesbian, Gay, Bisexual and Transgender certificate program to graduate students from all different master's programs across campus.
The advanced certificate in lesbian, gay, bisexual and transgender studies is for graduate students seeking to further their education in sexual and gender identity. The certificate also advances the understanding of diverse cultural, historical, ethnic/racial and contemporary sexualities on a global perspective. This program is also for graduate students interested in conducting LGBT research within their individual masters programs.
In order to receive the certificate, graduate students are required to complete twelve units of approved courses for the program, on top of classes necessary for their individual masters programs.
After the original announcement back in December,  Esther Rothblum, women's studies professor and the adviser of the program, was eager to get the program on its feet. Since its first month, Rothblum has reported six students currently involved in the program. These graduate students come from a variety of majors, including history and women's studies.
"I was hired here as the lesbian scholar, and I also identify as a lesbian," Rothblum said. "When I came here, I wanted to make sure the department was getting its money worth. I worked to get the minor started and then the major, and now the graduate certificate."
SDSU was the second university in the nation to allow students to major in LGBT studies, and the first in California. The addition of this new program continues to prove SDSU's commitment to creating a diverse campus.
A new program is born
One of the major reasons behind the need for an advanced LGBT certificate program came from students declaring an LGBT minor or major and their request for further education after graduation.
Professors outside the LGBT department were also contacting Rothblum about new "Gay History" or "Queer Literature," 600-level courses. However, only graduate students are eligible to take 600-level classes, not undergrads.
Graduate student Ashley Green became interested in the program after being accepted in the women's studies masters program here at SDSU.
"Last year when it was announced that the LGBT graduate certificate program was approved, I wanted to diversify and get more experience in other fields because classes for the program consist of sociology, women studies classes, history and English," Green said.
Green identifies as a pansexual, which is another reason why she was interested in being a part of the new program.
"I am a member of the LGBT community," Green said. "So it's really great to be in a program that focuses on my own identity. I'm glad SDSU has this program now."
Although the program began this fall semester, there are a variety of unique classes being offered for credit toward the certificate. Graduate students can take numerous women's studies courses such as "Narrating Women's Lives," which analyzes several memoirs written by women.
There is also an English course titled "Illness Narratives," which discusses the different ways our history has dealt with illness, including an additional intersectional focus on queers, gender and race. Rothblum will be teaching a "Lesbian Lives and Culture" class as well.
Learning outside the classroom
One of the courses required for the advanced certificate program is an internship class where students are asked to complete 120 hours at an approved site.
Susan Cayleff, the women's studies professor and internship adviser for the advanced certificate program, believes internships allow students to supplement what they learn in the classroom with activism in the community.
"Students gain real life experience with what it means to take academic knowledge into the community and create social change," Cayleff said. "Part of the internship goal is to have hands-on activist experience."
There are 17 different agencies students can choose, from Safe Zones to Mama's Kitchen, which delivers meals and other services to people with chronic ailments, such as HIV and AIDS.
Although internships are also offered to students in the major, more responsibility and expectations are given to those selective students in the certificate program.
"At each site, I communicate with the director and we have a set of expectations of what the student will do and what the agency will offer in terms of orientation and guidance," Cayleff said.
Green volunteered her time this summer at the Hillcrest Youth Center, a drop-in center for LGBT youth. The center provides a safe environment for youth to be who they are, as well as providing the resources needed to support that comfort.
Green spent her time as a one-on-one mentor for the youth center and even helped put together their annual LGBT Rainbow prom, in which 200 youth attend from all over San Diego County.
For the first time this past June, the center held a Rainbow graduation ceremony for those youths graduating high school.
"The Hillcrest Youth Center is part of the San Diego LGBT Center and caters to LGBTQ youth who are disproportionately homeless, frequently disowned by their family and face violence in the street," Cayleff said. "It is widely substantiated that LGBT youth have higher suicide rates, so it is important that they have a very safe and productive place to be."
After fulfilling the internship requirement, Green continues to volunteer her time at the center.
"Even though they are filling a course requirement, the passion students feel for the program can sustain them after the obligation is over," Cayleff said.
Cayleff hopes these internships help students find work upon graduation, as well as help students identify the types of agencies they would want to work for in future career goals.
Looking toward the future
According to Rothblum, this certificate is a direct indication to future employers that these students have studied LGBT issues.
"If you are majoring in anything, whether it's theater or engineering or art or ROTC, indicating that you have this LGBT experience shows that you have some knowledge of diversity which is what employers are looking for," Rothblum said.
Graduate students interested in the program can look forward to alternative courses being offered in the spring semester, such as a "Seminar and Sexuality" course. An alternative course discussing women and sports will also be offered.
"We're only the second university in the nation to have an LGBT major," Cayleff said. "That is a tremendous opportunity for our students."
Beginning in October, graduate students can apply to the program through WebPortal, similar to the way they would any other graduate program.
Although the program has six graduate students enrolled, the hope is to increase that number in the coming years.
Green eventually wants to get her PhD in sexuality studies and hopes this certificate will open the door for further opportunity.
Rothblum hope students who become a part of the program will help change the historical perspective of same-sex desire, same-sex relationships and sexual behavior to a more present understanding.
"I'm excited to see how much enthusiasm SDSU is showing for this certificate," Rothblum said.