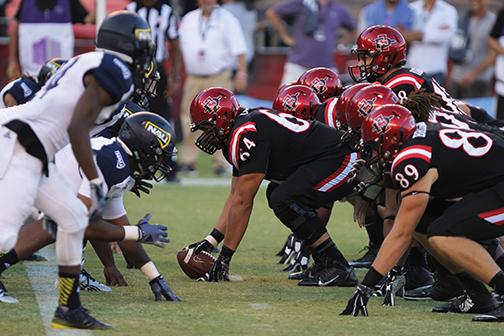 San Diego State (1-2, 0-0 Mountain West) left Corvallis, Oregon empty-handed last Saturday as the Oregon State University Beavers (3-0, 0-0 Pac-12) handled the Aztecs 28-7.
"Our big plan was to stop the run first the make the mark for us tonight, but (Oregon State) came out and played harder than us," sophomore linebacker Calvin Munson said after the game. "They beat us off the ball, they ran it well and they threw very well. It just wasn't our game tonight."
Head coach Rocky Long and company started the game just about as perfect as they could have. SDSU's first play from scrimmage was a 36-yard end-around run by sophomore receiver Lloyd Mills. Senior quarterback Quinn Kaehler almost put the Aztecs in the end zone on the next play with a flea-flicker pass, but he overshot redshirt-sophomore Eric Judge.
Sophomore running back Donnel Pumphrey then carried the ball four straight times for 27 yards, and eventually scored from two yards out to put SDSU ahead 7-0 with 11:27 left in the first quarter.
The Aztecs would never touch the end zone again. In fact, they would never get within Oregon State's 20-yard line again as nothing seemed to click for SDSU in Corvallis.
For instance, the Aztecs went three-and-out on its second possession. But OSU sophomore receiver Victor Bolden fumbled senior Joel Alesi's punt, and junior defensive back Pierre Romain recovered the fumble for the Aztecs. SDSU didn't jump on this opportunity to go up 14-0 early, though; Kaehler tossed his fifth interception of the year two plays later.
Kaehler had his worst game as an Aztec, completing 14 of 26 passes for just 106 yards and two interceptions. However, Kaehler clearly wasn't feeling 100 percent and trainers were working on his left hamstring during the game. Also, a lot of Kaehler's poor performance can be credited to SDSU's offensive line.
"There were several times that their defenders were in (Kaehler's) face or hitting right after he threw," Long said. "So, if I was just guessing without watching the film, I would say that their defensive line played extremely well and our offensive line played absolutely horrible."
The Beavers scored their first of 28 unanswered points on the ensuing drive, when senior running back Terron Ward danced 12 yards through SDSU's front six to tie the score at 7 with five seconds left in the first quarter.
The second quarter wasn't very eventful for the Aztecs as they had two empty possessions.
OSU senior quarterback Sean Mannion had a pretty active second quarter, though. Mannion led his Beavers on an eight-play touchdown drive in which he completed six passes for 81 yards to put OSU up 14-7 at halftime.
The Beavers owned SDSU in the second half, outscoring the Aztecs 14-0. SDSU was especially outmatched in the third quarter, and that seems to be a trend this season — a trend that the Aztecs will want to reverse before conference play starts next week.
SDSU's strongest element is its run defense. In quarters one, two and four of the three games this season, the Aztec defense has limited opponents to just more than 19 rushing yards per quarter. But it allows almost 59 yards per third quarter — a 40-yard difference that seems without explanation.
In a game where SDSU only gained 215 yards and allowed 25 first downs, there were few bright spots. Mills had a few nice catches for 35 yards, though, and Pumphrey played well, carrying it 17 times for 89 yards and a touchdown.
But Pumphrey's backfield partner junior Chase Price only ran it once for zero yards. As the Aztecs use a tandem-back system where success on the ground depends heavily on using different running styles, one wonders why SDSU's second running back only had his number called once in a big non-conference road game — especially since Price had done so well this season.
SDSU begins conference play next Saturday, Sept. 27 at Qualcomm Stadium against the University of Nevada, Las Vegas (1-3, 0-0 Mountain West).