Celebrate Oktoberfest in San Diego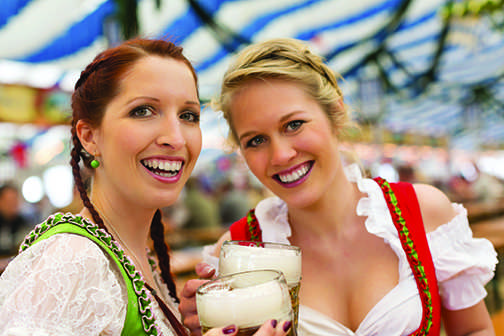 October is right around the corner. This means the beginning of all things pumpkin, the sudden appearance of Halloween stores in every vacant lot and Oktoberfest!
Originating in Munich, Germany, this festival was held to celebrate the marriage of Bavarian King Ludwig I to Therese of Saxe-Hildburghausen in 1810. The festival has since become a worldwide phenomenon, attracting millions of people from around the world to Munich for the 16-day event.
Oktoberfest is not only held in Germany. It has spread throughout the world, becoming a symbol of fall and a celebration of German heritage wherever it is held. In San Diego, a variety of different Oktoberfests are held. San Diegans can eat traditional German foods from various vendors, listen to live music and drink German beer to their hearts content.
La Mesa
Downtown La Mesa is less than five miles away from San Diego State. A three-day Oktoberfest is held here, from Friday, Oct. 3, to Sunday, Oct. 5. Reachable by the trolley, this Oktoberfest has over 300 vendors selling food and goods. Traditional German food and drinks are served for those channeling the spirit of the festival, along with everything from pizza to burritos. This festival spans ten blocks, and hosts a variety of local musicians and performers.
Ocean Beach
Perhaps the most well known Oktoberfest in San Diego is in Ocean Beach. This festival runs from Friday, Oct. 10, to Saturday, Oct. 11. On Friday, a scavenger hunt, German beer tasting, and the semifinals of OB's very own Ms. Oktoberfest are held. On Saturday, along with all the bratwurst eating and beer drinking, there is an annual Brat Trot. This 5k marathon supports local youth sports, and the winner takes home a hot dog-shaped trophy. A stein-holding competition, the finals of Ms. Oktoberfest, and a sausage toss are among some of the festivities taking place on Saturday as well. German beers such as Spaten, Franziskaner Hefe-Weissbier Dunkel, and various Oktoberfest brews are being served in the beer garden alongside cocktails such as Jagermeister and Berlin Mules for those older than 21.
El Cajon
The German American Societies of San Diego host the Oktoberfest in El Cajon on Sept. 26-28 and Oct. 3-5. Here you can eat traditional German food until your heart is content. Bratwurst, sauerkraut, pretzels, and even ox-on-the-spit are served. The band Guggenbach-Baum, from Baden-Württemberg, Germany, dresses in traditional German costumes and plays music from the polka to beer-drinking songs. A kid zone is offered for family fun, and, of course, a beer garden with German beer and spirits for those 21 and up.
Carlsbad
The Carlsbad Rotary club throws an Oktoberfest on Oct. 4 to benefit local charities such as the Agua Hedionda Lagoon Foundation and the Carlsbad Explorers Post. Admission is free, but by purchasing a meal you are given a plate of bratwurst, potatoes, and sauerkraut, followed by apple strudel for dessert. A mix of traditional American fall festivities, such as a pumpkin patch and pumpkin decorating contest, are available for kids.
Ramona
Oct. 12 – 14 marks the third annual Oktoberfest in Ramona. Bavarian accordion music, a "kinderfest" for children, and a beer garden stocked by Stone Brewing Company are some of the highlights of this Oktoberfest. Alongside the beer garden, Ramona showcases a bit of their community flair with the availability of local wines. Vendors will be set up, selling crafts and commercial goods.
Julian
Julian is a town known for its Apple Days celebration on Oct. 4 and 5. However, St. Elizabeth's church is throwing an Oktoberfest for residents and visitors to enjoy as well! Between trying their famous apple pies, German beer and brats can be consumed. Traditional dances and music are preformed as a part of this festival, bringing variety to the Fall celebration in Julian.
Local Restaurants
The spirit of Oktoberfest can be seen in the food and drink served at restaurants around San Diego as well. The Lazy Dog in Mission Valley offers food and drink specials from Sept. 25 through the end of October. Traditional German plates, such as the Pretzel Pork Schnitzel, and a variety of German beers are presented during this time. For the beer lovers that flock to San Diego, Karl Strauss Brewing Company also offers Oktoberfest specials. They brew their very own Oktoberfest beer and follow it with a celebration at their tasting room on Sept. 27.
The celebration of Oktoberfest is not something you have to go to Munich to enjoy anymore. From eating bratwurst in La Mesa, drinking cold Märzen style beer in Ocean Beach, or dancing to the traditional German music performed in El Cajon, Oktoberfest in San Diego brings the spirit of this German celebration to everyone.