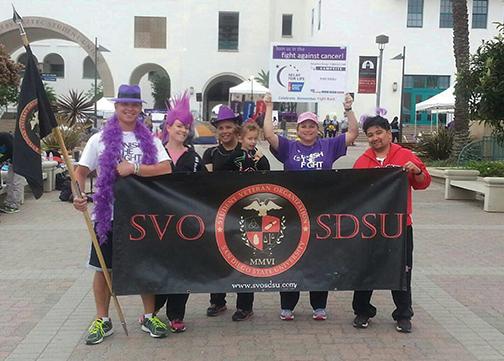 San Diego State has a veteran population of more than 1,000 people, and the Student Veterans Organization aims to represent them. Founded in 2006, SVO provides several services to the community and its members.
"The SVO offers its members services for personal and professional development while pursuing their academic goals," biology senior and SVO President Erika Armenta said. "These include peer-to-peer tutoring, Tools to Success seminars, and best of all, camaraderie with like-minded individuals."
SVO occasionally has speakers come to its house on fraternity row. Its latest speaker, a graduate school advisor, spoke to members who are considering continuing their education after graduating SDSU.
SVO also volunteers with outreach programs helping homeless veterans in San Diego. Armenta said every year SVO assists the Veterans Village of San Diego with the Stand Down event.
"They have legal, medical and a lot of other services all in one place available to the homeless veterans of San Diego," she said.
It also works with Embrace, a non-profit organization, by participating in Ex 4 Vets, its fitness-themed fundraiser on the USS Midway. The event helps raise money and awareness for the homeless and disabled veterans in San Diego.
SVO and the SDSU Alumni Association's War Memorial committee organize the War Memorial Vigil on Aztec Green, and the War Memorial Wreath Laying Ceremony. After the wreath laying, members of SVO stand watch at the SDSU War Memorial all night to honor and respect the fallen. The SDSU War Memorial, next to the Conrad Prebys Student Union, memorializes SDSU students who died in service of the U.S. The tribute is held every year before the Homecoming game and Veteran's Day.
"The memorial is to remember and give thanks to those who gave the ultimate sacrifice," Armenta said.
The SVO and SVO house is open to veterans, ROTC students, Active Duty, friends and family and supporters of veterans in the armed forces. More information about SVO can be found on its website: www.svosdsu.com.