Get involved: Alpha Kappa Psi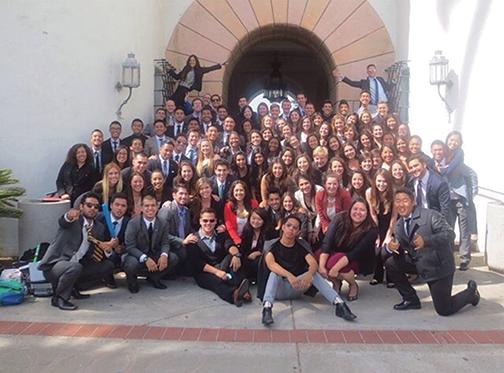 A mix of business and networking, a San Diego State business fraternity looks to offer students a leg up in the professional world.
For students interested in building their professional relationships and experience, business fraternity Alpha Kappa Psi has been serving the SDSU community for the past 30 years. Open to all majors, the co-ed fraternity has rush events at the beginning of both the fall and spring semester. Although there are two other business fraternities on campus, Pi Sigma Epsilon and Delta Sigma Pi, AKP is the only fraternity welcome to all majors.
"What brings us together is our camaraderie and being like-minded individuals who want to better themselves within SDSU and the community," President and international business senior Alonso Mojica said. "I'd say the number one thing (about AKP) is the quality of people in the chapter with their diversity and driven mentality."
Advisor and 2010 Alumnis Pedram Farjad agrees one of the best parts of the organization is it's diversity of members.
"You meet a greater range of people," he said. "I like to think of them as the cream of the crop."
However, such a wide range of over 100 members in the chapter sometimes proves to be difficult. "This semester, the term president wants to bring (AKP) back to it's core roots, and have members more involved," Farjad said.
Mojica said the group hopes to expand its involvement on campus.
"Within this year, the goal is to build upon the strong foundation within the members by working with other organizations on campus and building better leaders," Mojica said. Plans include networking mixers with the other business frats on campus, the first with newly established PSE scheduled for October.
Along with offering members professional networking opportunities, guests speakers and workshops, AKP is also committed to helping the community. The organization participates in on-campus events such as homecoming and Greenfest, and is organizing its fourth annual TEDxSDSU event in the spring. The SDSU chapter also volunteers with the Corazon organization, and helped construct houses for the homeless in Tijuana.
"We bring opportunities to members professionally, all over SDSU and the community," Mojica said.