Get Involved: Alpha Pi Sigma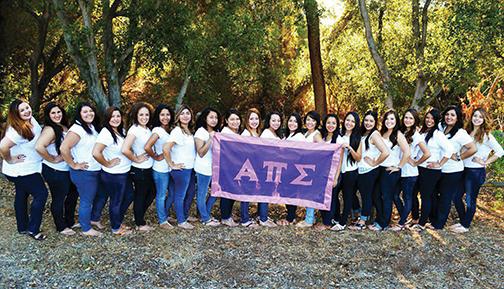 Alpha Pi Sigma was founded in 1990 and is a Latina-based cultural sorority at San Diego State.
The organization's website states its purpose as "promoting academic excellence, inspiring unity and friendship, developing leadership skills, encouraging cultural awareness, and furthering professional endeavors."
Stephany Rodriguez, a graduate student at SDSU and the director of expansion for Alpha Pi Sigma's National Board said the sorority was atypical in its values and focus.
"It's not your typical sorority," Rodriguez said. "Our three main values are sisterhood, community service and academics, academics being our first one. You came to San Diego State to be a student first, you didn't come to be in a sorority, you didn't come to be in a club, you know, you came to be a student first and get your education first."
Rodriguez explained that for this reason she enjoys being part of the sorority.
"It's one of the main reasons I joined," she said. "We want to focus on being students first. We're known as the girls in the library."
The sorority maintains a 100 percent graduation rate at SDSU and works extensively to promote academics, professional skills, and networking. The organization also focuses on helping the Latino community and visits a Tijuana-based orphanage each year, bringing donations and sharing its time with the children.
Every year the organization hosts Culture Night, a night of celebrating various foods and cultures. "Culture Night is a huge event," Rodriguez said. "The last three years, it's been really, really big. We try to bring a little bit of each culture." The organization invites members of the community and presents different cultural aspects such as Mariachi, Folklorico, Hawaiian dancers and Bachata. Next March will mark the 15th annual Culture Night Alpha Pi Sigma will host.
"We strive to be the best in every way, in community service, in sisterhood and in academic excellence," Rodriguez said. "I mean, I've graduated and I'm still involved."
Adriana Rodarte, the chapter's president, said that the chapter does more than 300 hours of community service per year to make an impact in Latino-based communities.
She has been involved in the organization for three years and says that Alpha Pi Sigma has been a "home away from home."
"I have someone to call at 2 a.m. if I'm stressing out, or I have a counselor there to help me through, I have someone who I can go out with to get my mind off things, I have study buddies, I have mentors," Rodarte said. "Alpha Pi Sigma is not just about the sisterhood for me, it's about what it's taught me in terms of being a leader on campus."
She said that since she joined at age 18 she has evolved into a different person. "I don't think I would have been able to have accomplished all the things I have accomplished if I wasn't a part of Alpha Pi Sigma," Rodarte said.
The organization is open to anyone who wishes to apply.