Get Involved: the post-grad job search begins now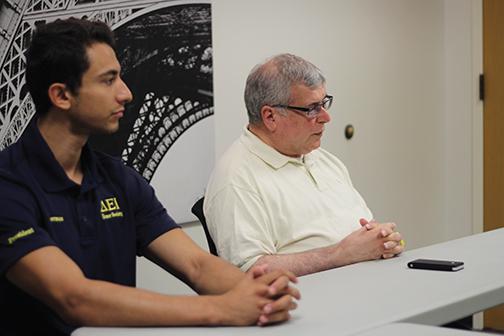 The common misconception among undergraduate students in college is that pursuits for a post-graduation career, in the form of internship experiences and job fairs, begin when they graduate or become third or fourth years. Many underclassmen attending San Diego State are under the impression that only juniors and seniors are qualified to contemplate and plan for future careers. The pursuit for a post-grad career starts the second we arrive on campus as Aztecs.
Leave the excuses behind because it's time to get busy, Aztecs.
To support all students serious about their schoolwork and their future careers, SDSU provides a powerful network of professional organizations whose missions are to simply serve the students in their professional endeavors.
At the center of it all, we have the beating heart, better known as Career Services. Located in Student Services East, Career Services is open to students of all majors wishing to get assistance through resume workshops, job fairs, interview training and personal meet-ups with potential employers.
Delta Epsilon Iota, an academic honor society that works closely with career services to get their students involved,  stands out from a sea of other honor societies on campus. This society advocates the involvement with Career Services, and training and networking opportunities with not only professionals, but also like-minded peers who have success in mind.
The trouble with honor societies, often times, it merely becomes a pretty name to put on a resume. DEI President German Pineda had different intentions when creating the organization.
"I wanted to form an organization in which students that are academically excelling, to not only have something to put on their resume but can actually talk about what they put on their resume," Pineda said. "We want our members to have two or three job offers by senior year."
It's easy for students to say they have the required skills, but to have proof of it is an advantage separating certain applicants as a viable candidate.
A crucial branch of Career Services, which seeks to bridge personal and professional relationships between alumni and students, is the Aztec Mentor Program. AMP, a relatively new program that started last fall, seeks to connect current students with mentors in relative career fields to help deliver first-hand experience. The connections students hold with these mentors are crucial as they are instrumental in networking with the industries providing opportunities for internships and even post-graduation job offers.
Many students who have taken the opportunity to network through AMP, DEI and Career Services, have been success stories. For example, some mentors have helped students get NASA internships while others have coached students through internship processes.
Networking is a service that money can't buy. Diane Marin, who works heavily with connecting students with AMP, emphasized the importance of networking for post-graduation success.
"It's not so much what you know, but who you know," Marin said.
Although AMP is a specialized program for juniors, seniors and graduate students, underclassmen can still start building their networks through the various resources offered by Career Services.
The frequency of these success stories is telling of the prosperity these programs maintain. However, it's also telling of the initiative students took to fulfill their dreams.
With almost 70 career events coming up for Career Services, including workshops, job fairs and walk-ins sessions with career counselors, there is no excuse for students, freshmen or seniors,  not to start building their future.
Competition may be fierce, but your career is what you make of it. These services are on campus and they're here to serve. In the end, whether or not you utilize them to fulfill your potential is completely up to you.