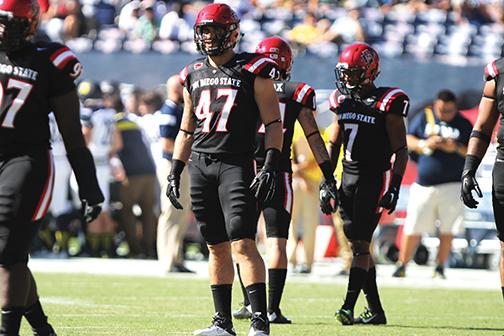 Well, that was somewhat of a rough ride. The San Diego State football team and its fans swung their way through the spectrum of emotions in the first three games of the season.
Elation after the 38-7 stomping of Northern Arizona University in Week 1.
An epic need for a consoling Trujillo's California Burrito after the 31-27 loss in the closing seconds at North Carolina University in Week 2.
And a confused, almost empty feeling after the 28-7 beat down the Aztecs faced at Oregon State University in Week 3.
Now Mountain West Conference play begins as the Aztecs (1-2, 0-0 MW) host the University of Nevada, Las Vegas Rebels (1-3, 0-0 MW) at 5 p.m. this Saturday, at Qualcomm Stadium.
The rest of the West Division of the MW — SDSU's division — sure hasn't looked good in non-conference play, combining to a 6-12 record this season. And not every schedule was as tough as SDSU's. In other words, the Aztecs are poised for big success in a weak division in a not-so-strong conference.
"There is a reason why there is another record in the parenthesis, because what you do outside of conference does not matter in conference," senior linebacker Cody Galea said at the weekly press conference on Tuesday. "We want to win every game, but conference (play) is almost a different season."
Let's see who has edge this week.
SDSU
Strength: The front six
In coach Rocky Long's 3-3-5 defensive scheme, the five defensive backs are mostly tasked with defending the pass. Consequently, the three SDSU linebackers can key in on the running back and regularly attack the line of scrimmage. The three linebackers join SDSU's three defensive linemen to form the defense's front six. And just like last year, this front six is stifling opposing running backs. So far, SDSU has allowed 117.3 rushing yards per game, tied for 36th in the country.
Weakness: Lack of downfield threat 
Disclaimer: this weakness takes into consideration that much of SDSU's offensive woes last week resulted from the quality of the Beavers' defense. 
When the team lost Ruffin, it lost its strongest downfield threat. Ruffin averaged 16.7 yards per reception last year and was averaging 19.5 yards per catch this season. Redshirt-sophomore Eric Judge is a strong downfield receiver, too; he recorded a nice 56-yard catch-and-run touchdown against UNC. Junior wide receiver Jemond Hazely also made a nice 28-yard catch against OSU.
But neither of those guys are downfield threats like Ruffin, and opposing defenses can focus deep coverage on certain receivers when a team lacks multiple strong downfield threats.
Here's how to quantify Ruffin's impact on the offense. In the six quarters Ruffin has played this season, the Aztecs scored 52 points. The six quarters he's been out? Twenty points.
UNLV
Strength: Multiple ground threats
The Rebels have three players with at least 140 rushing yards so far this season. Sophomore running back Keith Whitely has 180 yards and a touchdown on 35 carries. At 5-foot-9 and 185 pounds, Whitely is UNLV's speedy big-play back, much like Pumphrey is for the Aztecs. He averages 5.1 yards per carry.
Then UNLV has junior running back George Naufahu, who stands 6 feet tall and weighs 200 pounds. He's UNLV's stronger, up-the-middle back. He's averaging 3.8 yards per run on 39 carries for 149 yards and a touchdown.
And to top it all off, the Rebels have a dual-threat quarterback that's a bigger threat on the ground than he is through the air. Junior quarterback Blake Decker has 43 carries for 140 yards. SDSU showed that's its vulnerable to mobile quarterbacks when UNC junior quarterback Marquise Williams often turned broken plays into big gains, carrying it 12 times for 63 yards.
Weakness: Rush defense
Through four weeks of football, UNLV has allowed the most rush yards per game of all 128 Football Bowl Subdivision teams — 305.3 yards per game.
Also, UNLV's roster is depleted with injuries: 14 Rebels are out for this Saturday's game, six are doubtful and 11 are questionable. Yikes.
That's it. No elaboration needed.
Prediction: SDSU 28, UNLV 10
The first 20,000 fans in attendance will receive a free "We Are Aztecs" blanket, so make sure you get to the Q early.