Aztecs lose, look ahead to PLNU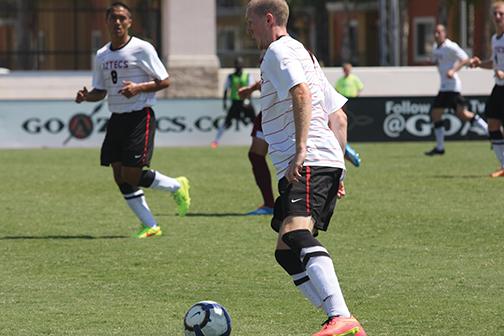 In college soccer, a team's win-loss record may not always indicate how good that team is. On Saturday, San Diego State men's soccer traveled up to Santa Barbara to take on the University of California, Santa Barbara Gauchos, who owned just two wins in six games.
It turned out to be an ill-fated trek to Harder Stadium as UCSB came away with a 1-0 win and condemned SDSU to its second straight loss after winning five of the first six games of the season.
"These are two young teams with a lot of potential," head coach Lev Kirshner said after the game.
The Gauchos scored the lone goal in the 21st minute. Sophomore midfielder Drew Murphy's shot was saved by the Aztecs' redshirt freshman goalkeeper Adam Allmaras, but the rebound fell right to UCSB sophomore midfielder Nick DePuy for a simple tap-in.
SDSU's freshman midfielder Jeff Rhodes had the best chance for the Aztecs in the first half. Good midfield play opened up a chance for the Indiana native, but his thunderous shot was tipped onto the crossbar by the Gauchos' freshman keeper Brandon Berke.
That would be the only other real chance for SDSU as many of its later shots were either wide or were blocked. Allmaras finished the game with six saves for the Aztecs, who were outshot by UCSB 15-12.
A LOOK AHEAD FOR SDSU
Next up for SDSU is a home match against crosstown foe Point Loma Nazarene University at 7 p.m. on Tuesday.
To say the Aztecs have historically dominated the Sea Lions is an understatement. SDSU is 12-1-1 all-time against Point Loma, with some of the biggest wins in Aztec men's soccer history coming in this series. The two sides last squared off in 2012, a 4-0 drubbing by the Aztecs.
One reason why it's been so lopsided between these two is because the Sea Lions are in NCAA Division II, a full division lower than Division I SDSU.
While the Aztecs have enjoyed a nice start to the year, the Sea Lions have not, with no wins in their first six games. They've scored just four goals against 13 conceded against mostly D-II opponents.
SDSU should easily cruise over Point Loma; however, one thing needs to be noted.
The Sea Lions are a huge drop-off in quality from UCSB, but Point Loma is also nothing compared to No. 1 University of California, Los Angeles, who the Aztecs will play the Sunday after playing the Sea Lions.
SDSU will need to take this game seriously and there's no doubt they will. They simply have too many good players and will be playing at the SDSU Sports Deck, a place that favors the Aztecs.
Kirshner certainly won't let Point Loma go under the radar as he prepares his team for the game.
"It's a local derby," he said. "We better be ready to come out."