Aztec gives animals a second chance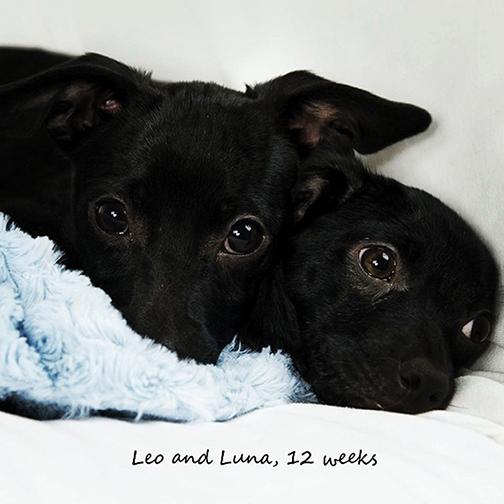 Euthanizing puppies sounds like something out of a nightmare. However, this is a horrible reality in many cities throughout Southern California. While it seems impossible to imagine doing such a thing to adorable puppies, there are a few dedicated individuals willing to stand up for these helpless dogs.
Psychology senior Chelsee MacCheyne is one of these dedicated individuals. For the past two years, MacCheyne has been a volunteer foster and adopter for the organization, Animal Pad. Volunteer fosters such as MacCheyne open up their residences to homeless dogs and give them the attention and care they need until adoption.
"My goal as a foster is to make the puppies the most marketable they can be, this includes potty training, kennel training and basic behavioral commands," MacCheyne said.
Currently, MacCheyne has two daschund puppies under her care, Leo and Luna. After the brother and sister pups had been in MacCheyne's care for just five days, there was already a drastic improvement in their characters. The once timid, scared and abandoned Leo and Luna are now the cute, energetic and mischievous puppies they were always meant to be. Most of the puppies that are cared for by fosters come from troubled pasts, but because of the tireless efforts of fosters like MacCheyne, these puppies get a second chance.
"I hope when people see these puppies they will know that they didn't have such a good start, and they are the way they are now because of the volunteers who dedicate their time and effort to help these little guys," MacCheyne said.
In cities such as San Bernardino, certain high-kill shelters will euthanize young puppies; this includes puppies of all breeds and in all forms of health. These shelters are severely understaffed and underfunded, and to put it simply, the puppies are just too young to be taken care of.
Right now, the Animal Pad has 10 bottle-feeder puppies and around 8 Chihuahuas less than 6 weeks of age. There is always a great need for donations, volunteers, fosters and adopters.
To become a foster, organizations such as Animal Pad take who they allow to become potential fosters and adopters very seriously. Fosters must be committed individuals with stable jobs and proper living arrangements. As expected however, giving the puppies to their new adopted families can be extremely tough.
When describing how giving up the puppies is, MacCheyne said, "It's difficult in the end because you go from having this puppy that you have made so marketable and somebody wants to take them. You have put so much of your heart into them, and it's always really hard to say goodbye."
MacCheyne aspires to be an animal trainer, so it's no surprise that she is passionate about helping animals.
"I love the idea of helping those who can't help themselves," MacCheyne said.
But it doesn't only take future animal trainers to become fosters. These puppies are in need of loving homes, and unfortunately there just aren't enough people to take them in. It's because of the devotion from individuals like MacCheyne that these puppies receive a second chance.
If interested in helping Animal Pad, visit its website at www.animalpad.org or visit its Facebook page. There are always animals in need of help, so help those little paws for a cause.