Restaurant Guide: Don't hit snooze, head to Snooze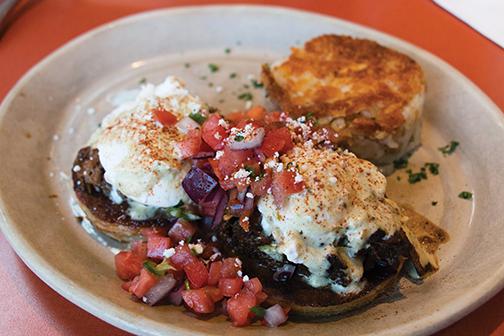 Hillcrest's Snooze, an A.M. Eatery, is a breakfast spot open to the public until 2:30 p.m. every day where patrons can enjoy either a sweet or savory breakfast dish as well as a warm atmosphere.
The restaurant has a retro theme and is filled with bright colors and a design that reminded me of both those pokey game pieces called jacks and the recurring, swirling atom from "The Adventures of Jimmy Neutron: Boy Genius." While we waited 45 minutes to get a table (this spot was poppin' this early Sunday afternoon), we watched two little boys playing cornhole outside with two boards decked out in the same atom-esque design.
We were finally seated at a vinyl booth toward the front of the restaurant where we had a great view of the circular tables accompanied by rounded benches lined up in a row and the chrome-rimmed bar pointed toward the Charger-game-bearing television. Upbeat, whistling music accompanied our conversation.
We each ordered our drinks — a deliciously pulpy orange juice for me and apple juice for my high-school-aged brother, which he later described as "bomb."  My dad said his Guatemalan coffee was weak.
We then looked to our paper menus to order our food. My dad chose the $8 Pineapple Upside Down Pancakes from the Sweet Utopia section of the menu, buttermilk pancakes made with caramelized pineapple and served with vanilla crème anglaise and cinnamon butter.  From the Flavors from the Hen section, I ordered the $9.50 Breakfast Pot Pie, which in addition to hockey puck shaped serving of hash browns consisted of a puff pastry covered in rosemary sausage gravy and a sunny side up egg.
Our waitress, Sista Wifey — she never told us her real name, but this was her identifier as our server on the receipt — told us that these were some of the most popular dishes on the menu. Sista Wifey also recommended one of her favorites to us, the $10 Green Eggs n' Hamwich dish from the Sammies section, reminiscent of Dr. Seuss' book Green Eggs and Ham, just like my brother's dish, the $9 Sandwich I Am. His plate included an egg, cheese and sausage sandwich on a pretzel roll, smoked cheddar hollandaise sauce and hash browns.
After receiving and devouring our food, we decided that the Pineapple Upside Down Pancakes were quite possibly the best pancakes ever. The two on my dad's plate were as big as his face and so fluffy we thought we might die, not to mention the heavenly vanilla crème anglaise. Though my brother said his sandwich was what he expected, he really enjoyed his hollandaise sauce.  As for me, the puff pastry in my potpie was mouthwateringly flaky and buttery. The gravy was amazing as well.
We left full and happy. With the tip, our total amounted to $45.  While I would recommend planning for a little wait due to the high volume of customers, Snooze is great place for brunch food that will nix any pesky snack cravings for the rest of the day.