Aztecs author third-place finish in Albuquerque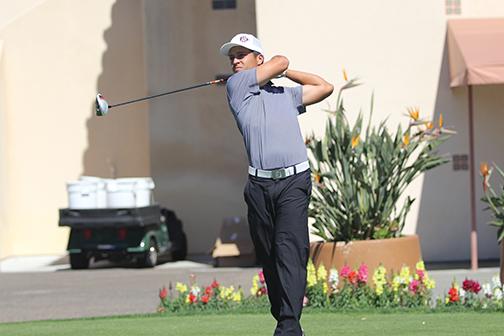 The San Diego State men's golf team finished in third place at the William H. Tucker Invitational on Saturday in Albuquerque, New Mexico. SDSU matched its third place finish from earlier this week at the Husky Invitational and now has three top-five team finishes in as many events this season.
The Aztecs made a strong introduction at the 7,562-yard par-72 UNM Championship course, carding a 7-under-par 280 in Friday's opener. Not a single Aztec was over par through the first 18 holes.
SDSU was represented on an individual level, once again, by senior Xander Schauffele who followed up his runner-up finish at the Husky Invitational with a fourth place finish on Saturday. Schauffele played seamless golf in the opening 18, avoiding the bogey man entirely on his way to a 8-under 136.
The Aztecs, with a 1-over-par 289 in round two, settled into second place behind the eventual tournament champion, University of New Mexico, who had a commanding 15-stroke lead.
The third and final round on Saturday was rough for SDSU across the board. The Aztecs put together a final round score of 15-over 304 to end the tournament, and not a single Aztec finished with a sub-par round. Fortunately, the dismal final day only ended up costing the team one position on the leaderboard, dropping them from second to third place.
After opening the tournament with rounds of 67 and 69, Schauffele turned in a third round score of 77, losing five strokes and two positions on the leaderboard. Before it all came apart during round three, he was just one shot off of a tie for the lead at 8 under.
Schauffele scattered seven bogeys and a double-bogey throughout his final round, but did well to manage the damage and pick up four birdies. The First Team All-Mountain West player led the field in par-5 scoring at 10 under, and birdied the par-5 ninth and 18th in all three rounds of the Invitational.
Last year's Mountain West Freshman of the year, Ricky DeSantis, nearly cracked the top 10 with his 1-over-par performance in the tournament. DeSantis turned in modest rounds of 71, 73, and 73 to finish in 11th place, but could have found himself much higher on the leaderboard with a little help from himself. DeSantis ranked second among the field in birdies with 14, but countered them with 11 bogeys and two double-bogeys throughout the 54-hole event.
After a busy week, SDSU will get two weeks to prepare for the Alister MacKenzie Invitational at The Meadow Club in Fairfax, California. The Aztecs finished in eighth place at the event last season when it was held in Sonoma, California.