Restaurant Guide: Beachside tacos are tasty treats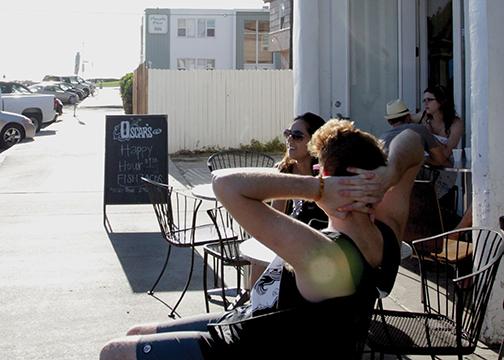 It's six o' clock on a Sunday evening, the sun is setting over the ocean as my friends and I walk toward our car. It's almost a Kodak moment except—we're starved. Lucky for us, the only thing that could make this moment better is only a few blocks away—Oscar's Mexican Seafood.
Oscar's Mexican Seafood is a cash-only establishment that has three easily accessible locations, two of which are within walking distance from Pacific Beach and Tourmaline Surfing Park, while the other awaits hungry customers in Hillcrest. The original Oscar's has served locals since 2011, and never seems to disappoint. As we approached Oscar's with sand-ridden hair and empty stomachs, we couldn't help but notice the mural outside featuring a taco truck, and an ocean view including fish, turtles, and underwater plants. The mural really gives Oscar's a laid back California vibe.
My companions and I all ordered separate dishes, that way we could sample a lot of what Oscar's has to offer. I ordered the spicy shrimp taco served with cheese, cabbage, onions, tomatoes, cilantro and, even though it was an extra fifty cents, avocado. In total, I paid four dollars and fifty cents, which was well worth it because my spicy shrimp taco was two words: the bomb.
It was no surprise when my companion Danielle Ralleca ordered the Taco Especial which features fish, shrimp, scallops and is served with cheese, cabbage, onions, tomatoes and cilantro, because she loves seafood. Another cool feature about Oscar's Mexican Seafood is that you can upgrade anything to a burrito or torta for an extra dollar. Ralleca took full advantage of that and paid five dollars and fifty cents instead of the regular price. "Compared to similar places I've been to, the first bite just melts in your mouth, Ralleca said. "There's really nothing else like the mix of fish, shrimp, and scallops all in one bite."
How Ralleca feels about fish, is how our other companions feel about steak. Luckily Oscar's had something for them too, namely the steak taco with perfectly seasoned skirt steak served with cheese, cabbage, onions, tomatoes and cilantro for four dollars and fifty cents. If the smile on the customer's face after her first bite wasn't a tell-tale sign about how much she liked it, maybe the fact that she bought another taco was.
Now my roommate, Cindy Solomon, stuck to the basics and ordered two battered fish tacos served with cabbage, onion, tomato and cilantro and paid four dollars, basically getting two for the price of one.
"Any day I can get amazingly delicious food for a wonderfully low price is a good day, and going to Oscar's definitely meets that qualification," Solomon said.
Another great thing about Oscar's is that they have the killer green sauce that could formerly be found at La Casitas which makes everything 100 times better.
Oscar's Mexican Seafood has low priced, high quality food for college students on a budget. Oscar's may be a smaller establishment, but its food is anything but small in flavor. So the next time you're heading down to Pacific Beach remember to bring cash and an appetite.