No bawling for Bawden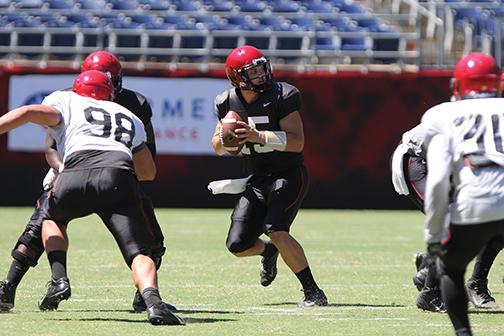 by Mike Heral, Senior Staff Columnist
October 2, 2014
Freshman quarterback Nick Bawden makes his first start Friday night against Aztec rival California State University, Fresno. Bawden's turn comes after senior Quinn Kaehler sprained his throwing shoulder during last Saturday's win against the University of Nevada, Las Vegas. Not only does Bawden enter against a team San Diego State usually doesn't beat on the road, but the winner of Friday's game will be the favorite to win the Mountain West Conference Western Division.
So, no pressure, right?
Maybe there'll be at least a little pressure, but seeing the green Bawden under center isn't a reason for Aztecs fans to panic. Here's why:
Fresno State's Defense Is Bad
The Bulldogs are No. 11 in rushing defense among the 12 MWC teams. More, the Bulldogs rank last in defensive pass efficiency. The Mountain West is perennially an offense-first league, so the Bulldogs lowly ranking means its defense is especially awful. In fact, we can quantify just how much they stink. The Bulldogs have the 119th ranked defense out of 125 Football Bowl Subdivision teams.
Bawden has to look at that porous defense and think that this is a great opportunity for him. Even traditional mistakes made by new quarterbacks—wrong reads and misthrows—shouldn't hurt the Aztecs too much as the Bulldogs defense will be forgiving.
SDSU Doesn't Throw Well, Anyway
The same stats reflect that the Kaehler-directed Aztecs air attack was only average in yardage, and near the bottom in scoring. Throwing interceptions is where he excels this year. He's thrown for third most in the MWC with six.
That ought to remove the pressure from Bawden, because the Aztecs are already used to a quarterback giving the ball to the enemy. This isn't to say that the Aztecs won't miss Kaehler. His quick thinking led to the improvised draw play that sophomore running back Donnel Pumphrey used to score the Aztecs first touchdown against UNLV. Whether Bawden will be just as mentally sharp won't be answered until Friday night.
Pumphrey Will Play
Despite offensive coordinator Bob Toledo's mad scientist approach to offense, the Aztecs win by getting the ball out of the quarterback's hands.
Relax, I'm not about to use the silly nickname some have labeled our star running back with, but I will say that Pumphrey will run through the Bulldogs at will on Friday and pump the Aztecs up as Western Division frontrunners.
There's always something to cause Aztecs' fans to be chewing through their fingernails, but Bawden won't be one of those this week. Aztecs' fans need to sharpen their incisors for when Fresno State has the ball. After all, didn't you hear that the Aztecs' best linebacker, senior Derek Largent, is still recovering from a surgery? Yikes!