Restaurant Guide: Italian dreams meet in North Park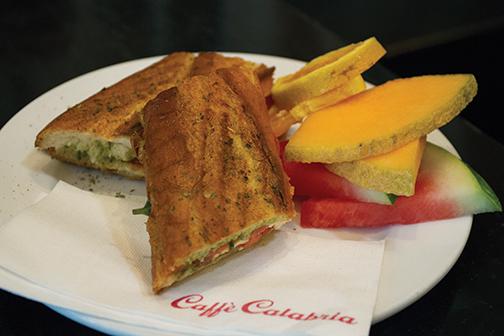 Located in North Park sits a hole-in-the-wall restaurant where authentic Italian food meets sunny San Diego. Caffe Calabria is a little taste of Italy that will keep your taste buds wanting more.
According to the website, founder Arne Holt spent fifteen years traveling to Italy and perfecting the coffee beans Caffe Calabria roasts, brew and serves today. Holt's purpose is simple: expose San Diegans to quality coffee.
Customers can order a variety of coffee flavors, including mochas and lattes. My personal favorite is the Viennese Coffee, which is made with two shots of black espresso and infused with whipped cream. Pair this with a morning pastry or panini for lunch and it's the perfect combination. Customers can order teas, such as green, black and herbal, and can even enjoy a decaf coffee or tea from its coffee bar.
Every espresso and cup of coffee is made with tender love and care, an art the baristas take pride in.
During the day, Caffe Calabria serves delightful cups of coffee from beans roasted in the restaurant. Wednesday through Sunday nights, the restaurant expands its menu with dinner options such as Neapolitan pizza, antipastos and calzones.
Caffe Calabria is home to a wood-burning pizza oven that brings the pizza toppings to life and continues the authenticity of Neapolitan flavors. Every dinner item is prepared after every order and personalized to serve the customers savory needs. For customers wanting something simple, the traditional Margherita pizza will satisfy your tastebuds. The Diavola pizza is for meat-lovers, but for someone wanting to try a little bit of everything, the Cuattro Stagioni pizza is what you are looking for.  Every fourth of the pizza represents one of the four seasons.
The calzones and antipastos are just as delicious as the pizza. The Verdura calzone is especially satisfying, in which some customers add their own meats for additional flavor and texture.
Of course, what would dinner be without dessert? Caffe Calabria serves a dessert menu for every mood. Daring customers can try Affogato, an espresso shot with vanilla gelato or a Coppa Caffe, which is very similar but with a Nutella twist. Customers with a fruity dessert palette can try the peach sorbet, which is served beautifully inside a hallowed, frozen peach.
The service is fast and satisfactory any time of day. The smells of coffee and pizza entice any person passing by to drop what they are doing and venture inside. The food has such an effect on customers, it's almost impossible to take a picture worthy for Instagram before taking your first bite.
Caffe Calabria is equal parts food as it is ambiance. During the day, the restaurant can make customers feel as though they are in a cafe in the heart of Italy. Caffe Calabria is simple but comes alive as soon as evening strikes. At night, the cafe transforms into a place of pizza, wine and good conversation — what could be more perfect? With strings of lights hung throughout the ceiling, Caffe Calabria is the perfect setting for a romantic date or an evening out with friends.