Katie Perry helps Aztecs roar past Tigers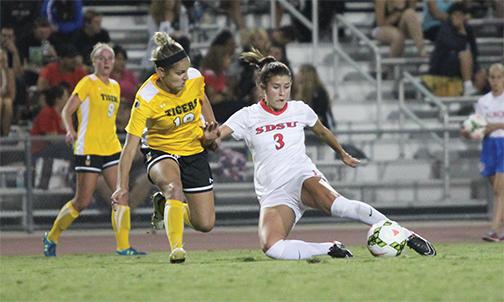 For 52 minutes and 23 seconds, the San Diego State women's soccer team had its back against the wall Friday night against the Colorado College Tigers. But senior midfielder Katie Perry roared SDSU to life with her second goal of the season, setting off a blistering three-goal in sequence that propelled the Aztecs to a 3-0 win.
It was SDSU's 10th straight home victory against a conference foe. Friday's match pitted the preseason No. 1 and No. 2 Mountain West teams against each other.
"We're relentless," senior midfielder Kelsey Booth said. "We wanted it more than (they did). To us, it was a championship game. For us, this was a huge win."
The match didn't start that way as the Tigers pressured the Aztecs and made them play out of their own end for the whole first half.
Senior forward Hannah Keane almost put the Aztecs in front after 40 seconds, but her shot ricocheted off the far post.
The Tigers' senior midfielder Kaeli Vandersluis almost put Colorado College in front with a wicked curling shot that bounced off the crossbar.
The Aztecs' junior goalkeeper Melanie Vaughn kept the game scoreless with her point-blank save from Vandersluis, but for SDSU the first half felt more like a loss, prompting a rousing halftime speech by the coaching staff.
"They kind of laid into us, letting us know, 'Hey this is a big game, you guys need to come out and show them who's boss and who's house it is,'" Booth said.
The Aztecs weren't outclassed in the first half, but they were lacking in physicality and head coach Mike Friesen let his team know that.
"Nobody comes into our house and pushes us around, it's disrespectful and we aren't going to have it," he said.
And the message for what to do in the second half was loud and clear.
"We just wanted to get there from a physical standpoint, we're going to come smash you back in the face and see how you respond to it," Friesen said.
Booth was instrumental Friday with three assists. It was her smart pass that found Perry, who started the fireworks for the Aztecs.
Freshman forward Aliyah Utush had her curling top-corner shot saved by junior keeper Heather Seeley. SDSU would double its advantage on the ensuing corner kick.
Senior midfielder Mariah Helmer scored a goal for the highlight reels with her back-heel volley from Booth's cross. It was Helmer's second goal of the year and Booth's second assist of the night.
Two and a half minutes after that, the rout was complete when sophomore forward Morgan Darling grabbed her second goal of the year with a diagonal shot into the net off Booth's third assist of the night.
Booth's three assists brought her season tally up to six, which leads the team along with her five goals.
The Aztecs improved to 8-2-1 overall and 3-0 in the Mountain West.