Restaurant Guide: Taste adventure with your Crazee Burger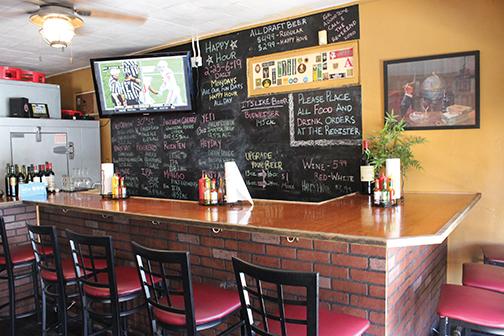 Located on the corner of 30th Street and Howard Avenue in North Park, Crazee Burger provides a humble but attractive spot to eat not-so-humble but similarly attractive hamburgers.
When going into the restaurant, you are first met with a bar with a chalkboard behind it that displays what is on tap. On weekends the restaurant is full, with whichever game that's being played on the television. The sit-down portion of the restaurant is more interesting. There you'll find paintings covering the walls, with price tags and contact information underneath.
I talked to San Diego State alumnus Jared Porter, who was working the counter that day about them.
"Everyone's local, they've all eaten here," Porter said. "Everyone's welcome to bring in stuff as long as it's not profane."
The menu offers a variety of options, including salads, sides, such as French fries and onion rings, hot dogs and grilled cheese sandwiches. Although, the overwhelming focus is on the hamburgers. Some highlights include hamburgers with a creative assortment of toppings: the Organic burger, with an organically grown vegetarian patty; the Dansk burger, covered with blue cheese; the Jamaican burger, cooked longer and with sautéed peaches and pepper jack; and, above all, the Muddy Pig with Nutella, Bacon and Plantains.
The exotic burgers are just as they are described: they offer such meats as buffalo, ostrich, venison, wild boar, kangaroo and gator. The restaurant is probably not so much for the environmentally-conscious consumer. Nevertheless, they are very good.
I ordered the wild boar burger, while my companions had the Texan burger and another had the Chubby Charlie and a slider afterward.
The wild boar burger was delicious, offering a texture that was certainly more pork-like than your average burger but with a taste that surprised me.  It was sweeter than what one might normally expect, the sautéed pears on it combined with a bit of whipped cream created a taste almost like peanut butter. The fries were good accompaniment: covered in parmesan and spices, they were a good bit of saltiness to eat with such a burger.
The Chubby Charlie was overwhelming and, for that reason, mouthwatering. With Swiss cheese, mushrooms, bacon, pastrami, horseradish and a fried egg, the sandwich pulls no punches. For this competition, the Texan burger suffers, but it's also tasty. To play it safe, I would recommend a less conventional order when eating here.
The burgers are fully satisfying, even being featured on "Diners Drive-ins and Dives" with Guy Fieri.
I will note, however, that this meal was one of the messiest, juiciest things I have ever eaten. If one is up for that, this is a good option.
The prices are higher than your normal burger, especially for the exotic burgers. They stay around $13 for a one-third pound burger. The beef burgers are nearly all $7.49, and fries cost an extra $2.49. Happy hour makes items cheaper, and is from 2:23 p.m. to 6:19 p.m. every day.
Overall, the restaurant is a casual, offbeat retreat for those who love excessive burgers. The bathroom is messy, with initials carved into near every corner. The restaurant isn't for everyone, but if you enjoy a little irreverence and a whole lot of meat (or not, there is a vegetarian option), then it is for you.