Restaurant Guide: Endless sushi satiates students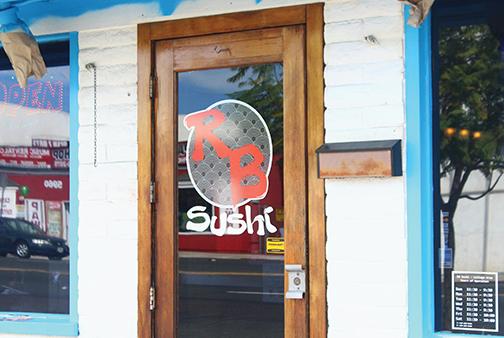 Did somebody say all-you-can-eat sushi? When the words "all you can eat" are put in front of anything, count me in! RB Sushi, located on El Cajon Blvd, is perfect for those craving Japanese but don't want to travel too far from campus.
For the individuals that aren't very adventurous on their seafood endeavors, RB has a wide range of options such as the basic California roll or chicken teriyaki platter. These options are equally as tasty as their more adventurous counterparts.
Special rolls contain a variety of different seafood combinations. The "Fire Fire" roll is an ideal combination of the raw and cooked aspects of sushi. This eight-piece roll includes shrimp, tempura, crab meat and avocado on the inside, and the best part is the baked salmon glazed with a teriyaki sauce on top. There is a variety of special rolls to choose from. Some of the more notable options include the "Da Bomb" and "911" roll, and the explosive names certainly match the taste.
If it doesn't seem like a mere sushi roll can satisfy the monstrous hunger of a college student's appetite, the all-you-can-eat menu option is definitely appealing. For $20, an all-you-can-eat array of rolls, nigri, and kitchen items are at your fingertips. The only catch is that if the restaurant catches those sharing their bottomless food with anyone else, there is an extra fee.
Prices range from $4 to $14 for rolls and about $12 for platters. The prices are a bit steep for certain items, but for the most part, it's worth spending the extra cash.
RB has a light and easy going atmosphere with a friendly staff that takes pride in helping their customers. The kitchen does become backed up once in a while, so there can be long waits for food. However, the chaos from football games displayed on numerous mounted televisions with the added friendliness of the waiters makes time pass quickly.
RB Sushi has three locations in Rancho Bernardino, Hillcrest and College Area. With there being such a close location to campus, RB Sushi is a definite must.