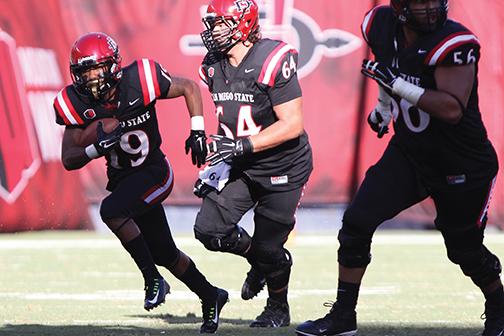 The San Diego State Aztecs (2-3, 1-1 Mountain West) square off against the University of New Mexico Lobos (2-3, 0-1 Mountain West) this Friday in Albuquerque.
True freshman quarterback Nick Bawden will make his second career start as senior quarterback Quinn Kaehler is still out with a sprained right shoulder. Head coach Rocky Long said at the weekly press conference that he expects Bawden to perform much better than he did in Fresno.
"He made a couple really good plays with his feet and made a couple really good throws," Long said. "So you would think that would give him confidence going into this game, as the pregame jitters are gone."
The Aztecs might not have to rely on Bawden's arm that much on Friday, though, as the Lobos allow the third-most rushing yards per game in the country with 264.8 yards. So sophomore running back Donnel Pumphrey and junior running back Chase Price could have a field day.
And there sure won't be much traditional quarterback action with UNM's offense, either. Lobos quarterbacks have tossed only 56 passes this year because their offense has little to do with a quarterback's arm. Instead, UNM runs the triple-option almost to perfection and gains the fourth-most rushing yards per game in the country with 322.4 yards. Long ran a similar running scheme when he coached the Lobos from 1998-2008, and he knows it'll be tough to stop this weekend.
"There is absolutely no way to beat it on the chalkboard," he said. "It's the best running offense ever designed."
Because the Lobos will throw so many different plays at SDSU through the triple option, Long and players said that Friday's game would become assignment football. In other words, defenders won't be able to simply pursue the ball-carrier because the triple option disguises who that ball carrier is in the backfield.
"One guy will have the dive, someone else will have the quarterback and someone else has the pitch guy," senior linebacker Cody Galea said. "If you have three guys tackle who they're supposed to and one of them has the ball, then you tackle the guy with the ball."
UNM's triple option will be SDSU's most stalwart rushing challenge this year, but the Aztecs' defense has so far subdued some potent ground games. SDSU's rush defense ranks 41st in the country with 126.6 rushing yards allowed per game and it's held all five opponents below their season averages for yards per game.
This game will pit a great rushing offense against a good rushing defense, and that should be a thrill to watch.
"That's kind of a pride thing," Galea said. "It makes you feel good if you can go in and run the football on a rush defense or you can stop the run on a good run offense. It is a challenge and we're ready to accept it."
Prediction: SDSU 27, UNM 21