Tasty Tuesday: Dick's Last Resort serves sarcasm with meals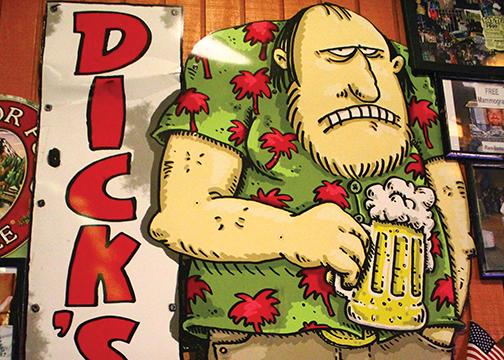 "Are you going to just stand there, or actually come in?" greeted a tall, scruffy blonde man upon our entrance. I was with a group of fifteen girls out to celebrate a birthday. It was evident at that point that our egos needed to be left at the door.
The simplest way to describe the decor in Dick's Last Resort downtown is to compare it to a tacky souvenir shop in a tiny beach town. The kind of shop that is so covered in junk and knick-knacks that it leaves you stunned as you stand in the doorway, struggling to grasp the concept of how everything fits in such a tiny space. The walls are covered in vulgar wooden signs, eclectic neon lights and souvenir shirts.
No menus are passed out to the table once we are brought to our seats. Instead, our waiter stands in the center of the restaurant and screams at the top of his lungs, "I'm going to explain the dinner menu, for all you idiots who don't know how it works," over Queen blaring on the speakers.
There are chalkboard menus hanging up on the walls, and a giant menu on wheels in the center of the chaotic dining area. Entrees vary from about $12.99 to $23.99. It's not cheap, but it's the hilarious experience that you're paying for.
"Don't order the pasta, it's disgusting," our waiter continues, as a waitress throws paper placemats down on our table.
I'm not sure if the service was so slow on purpose, to add to Dick's ambiance and reputation, but it takes at least 30 minutes for our waiter to ask for our orders. The bad behavior has everyone anxious about what the food is going to taste like. However, we are pleasantly surprised.
The firecracker salmon I order, $18.99, has a light wasabi sauce and is served with steamed veggies and rice. It's delicious, just the right amount of crispy with a hint of spice. I steal a few fries from the person to my left and am greeted with hot, crispy goodness.
"These fries are even better than the Habit," I think to myself.
Someone else orders the Shrimp-A-Palooza, $16.99, a platter of 12 "shrimpies" served with rice and veggies. I feel satisfied as I steal a few from my other neighbor.
So far, my only issue with Dick's is the vegetarian factor. They do have a few salads, but other than that, the majority of the food is fried fish or meat.
Everyone at our table is so distracted by the food filling our bellies that we almost don't notice our waiter creating our paper hats. Dick's is famous for creating rude, tall hats and placing them on guests' heads as they eat their meals. The best part is you have no idea what you're going to get and there is a moment of horror as you eye your dining companions while they read what was just placed on you. There is usually an eruption of laughter and camera flashes. The jokes are sometimes personal, but always silly and bound to end up everyone's Snapchat stories.
We are not disappointed with our hats. They are rude, hilarious and just what we came here for. People from other tables get up to come see them. The atmosphere at Dick's can best be described as a party. Drunk customers are constantly up, walking around, mingling, dancing and comparing the phrases on their hats. It's definitely an entertaining place to be.
Overall, I was very impressed with Dick's. It's more than just your average pub. I had an experience to remember and I just might hang my hat on my wall.