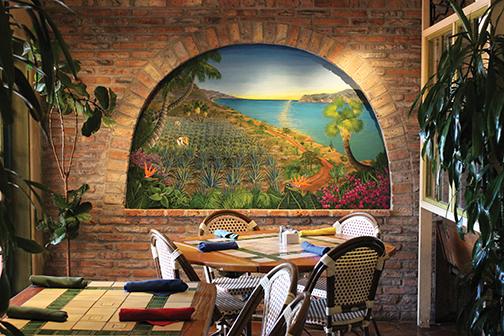 Miguel's is just one of the hundreds, if not thousands, of Mexican restaurants in San Diego, but it's able to set itself apart thanks to its authentic food and amazing atmosphere. The restaurant in Point Loma offers decent parking, but don't expect anything consistently available on a Friday or Saturday night.
Miguel's stands two stories tall, with the bottom floor offering a decently sized dining area, and the top floor containing a more intimate setting with candles and a nice view of the marina without the ever-present disgusting smell. But enough of all that, the most important part of course is the food.
Like any other decent Mexican restaurant, my table was given its own basket of chips with both salsa and a white sauce, which was a favorite of nearly everyone I talked to. I ordered the fish tacos, while my friends ordered the asado pollo burrito and a chicken quesadilla. All of these tasted great, not that it's too difficult to make a quesadilla or fish taco taste bad, but this was certainly a far-cry from fast food. The tacos didn't fall apart in my hands and the cheese tasted genuine and wasn't too overbearing on the quesadilla.  All of our meals came with brown rice and beans, which, although standard, were a nice addition and tasted great as well.
Make sure to not settle just for boring water; Miguel's offers delicious drinks such as mango mint iced tea and ginger mint lemonade, both of which were creative and pleasantly surprising.
Because it's a sit-down restaurant, you can expect the prices to be a bit expensive, but it's nothing that will burn a hole in your pocket. The service was also respectful, bringing out the drinks and food promptly and always with a smile. Everyone I've talked to about the restaurant, including myself, walked away full and most definitely satisfied. So if you're ever looking for some good Mexican food in a nicer part of San Diego with a lovely view, you can't go wrong with Miguel's.