Weekend Picks: Parktoberfest and Lorde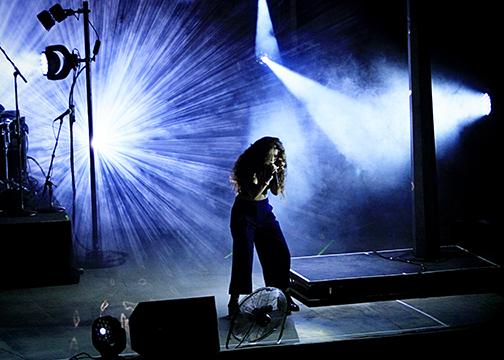 Ryo's Picks
Parktoberfest in South Park
Oktoberfest is among us, and the South Park community is joining the fun. This Saturday, Oct. 11, the first Parktoberfest takes place at the Gala Foods parking lot on Grape St. Many local eats and drinks will be available, as well as other entertainment such as bands and family-friendly games. Free bike valet and shuttles will also be provided at the 30th and University stop for your convenience. The event is from 11 a.m. to 10 p.m. so you have all day to enjoy the most of Parktoberfest.
Three New Exhibits at MOPA
After a temporary close due to renovations, Museum of Photographic Arts in Balboa Park will open doors with three new exhibits this Saturday, Oct. 11. MOPA invited K-12 students to submit works for the museum's juried exhibition, "We Are Family: Ninth Annual Youth Exhibition." "Collective Restraint: Four Decades of Czech Photography" collects expressive photos made by artists in Czechoslovakia from the 1930s to 1960s. The innovations of early photography are presented in "Art & Inventions in the 19th Century." With a fresh new start; the museum once again welcomes visitors with a lot to check out for the rest of the year.
Nick's Picks
Lorde @ SDSU
New Zealand pop sensation Lorde brings her tour here to San Diego State Saturday, Oct. 11. Still riding the high of her latest album "Pure Heroine," the young Lorde will entertain a crowd of Aztecs at the Cal Coast Credit Union Open Air Theatre. Majical Cloudz is also on tour with Lorde and open for her at each stop. The Canadian duo is definitely worth checking out before Lorde takes the stage. Tickets for the Kiwi pop songstress range from $20 – $60 depending on if you want to be an arm's length away from the stage or farther back for a better view.
David Allen Grier
Sketch comedy superstar David Allen Grier brings his comedic talents to the downtown American Comedy Co. for two days worth of fun-filled jokes on Oct. 10-11. Grier's career has spanned longer than most of us Aztecs have been alive. Grier starred in shows such as "In Living Color," "Martin," "My Wife and Kids," and "Cosby." Grier's talents aren't just captured on film; he's also starred on Broadway in musicals such as "The First" where he received a Tony Award nomination for his role. All in all Grier will be sure to have his downtown audience in stitches with his wise-cracking jokes about his life.