Faculty seek to settle contract on salaries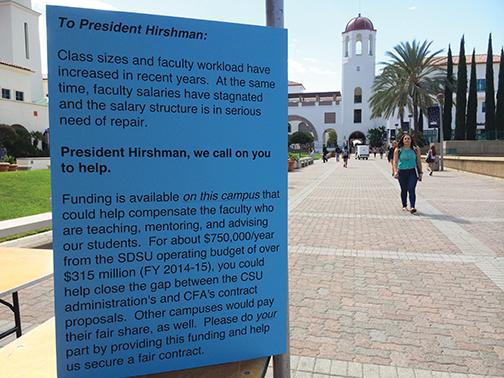 Nearly a dozen San Diego State faculty members gathered and marched to Manchester Hall last Wednesday, where they delivered letters to President Hirshman asking for his support and attention to the need for a fair contract and higher salaries.
Some faculty members carried signs that read, "Follow me for a fair contract" as they marched from their tent near the SDSU Bookstore toward the president's office.
The faculty contracts across the California State University campuses expired in June and current negotiations between the California Faculty Association and the CSU chancellor have failed to bring about a consensus.
Charles Toombs, a CFA representative and faculty member at SDSU, said the two entities are close to coming to an agreement but the issue remains regarding salary differences.
When SDSU faculty marched to Manchester Hall Wednesday, they asked Hirshman to contribute $750,000 of the more than $315 million budget the faculty said are SDSU's funds for the 2014-15 fiscal year. The latest budget data available online is for the 2013-14 year.
This contribution would provide an additional one percent to the CSU's three percent salary pool.
"President Hirshman warmly received us, listened to our concerns with salary and workload, and expressed his understanding that these were important issues for us," Toombs said.
President Hirshman's office chose not to comment on the meeting.
Toombs said some of the prominent issues affecting not only SDSU but also the other universities in the CSU system are the trends of inversion, progression and misclassification.
Inversion refers to newly hired faculty receiving higher salaries than current faculty with the same title, while the term progression refers to the inability of faculty to advance past their current ranks and ultimately toward receiving larger salaries. Misclassification describes the circumstance during which faculty members are placed under the wrong classification, such as a lecturer being classified as a professor.
Toombs said that there has been a general decline in state support for higher education.
"It impacts our ability to educate," he said. "Our workload has increased as class sizes and committee work increase. As student enrollment gets bigger, there are fewer opportunities for one-on-one instruction."
Pam Fox, a lecturer within the Department of Religious Studies at SDSU, said she has to borrow her boyfriend's car to drive to work and live with her mother because she can barely afford to live and work in San Diego with her salary.
"It's been very demoralizing," Fox said. "It's hard to find the energy to come to class in this climate of not having a raise in 10 years. Our pay is not at the standard, or the cost of living, especially not in California. As a lecturer, we have no rights, no guarantees, and certainly no retirement."
Fox said she doesn't want to quit or change because she believes in public education and loves teaching and helping students achieve their goals.
Kim Archuletta, a lecturer for SDSU's School of Social Work, said the lack of salary raises has affected her family.
"My son had cancer, and needed expensive medical treatment," she said. "It was difficult to afford the treatment since I haven't had a raise since 2007."
Toombs and Archuletta both said this issue also affects students.
"It's a trickle-down effect," Archuletta said. "There are bigger classes and fewer sections. It's difficult to give written assignments, for example."
Toombs said that because this is affecting faculty, it also affects students.
He said although the contract will not fix all the issues of the CSUs, once signed, it will be a step in the right direction.