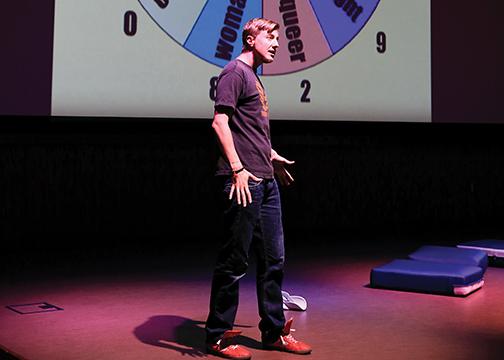 To mark National Coming Out Day, San Diego State's Pride Center hosted a nationally-acclaimed one-man show about the importance of understanding gender and sexual diversity.
In "Becoming a Man in 127 EASY Steps," Scott Turner Schofield took the audience through a variety of personal experiences relating to gender identity and sexuality.
The performance is one of many solo shows Schofield performs across the country. In addition to performance, he speaks in a variety of professional and academic settings, teaching the value of tolerance and acceptance.
Carlos Nevaro, a graduate assistant for SDSU's The Pride Center, used one word to describe the performance: insightful.
"Even though I don't identify with being transgender, a lot of it I could still connect with, and I think that shows how universal all of our struggles are," Nevaro said.
He said university events such as Schofield's, which focus on bridging the gaps between the diverse communities on campus, are part of a larger effort by SDSU to forge a unified community.
That initiative is called One SDSU Community.
According to the website, "The goal of One SDSU Community is to provide opportunities for students to learn about themselves and the perspectives, experiences and heritage that make them unique, allowing them to connect with other students to learn about their journeys."
Schofield's show aims to not only educate the audience on subjects of gender and sexuality but also connect with audience members on a personal level.
"It's not just a transgender story," Schofield said, "I hope you leave thinking about how well you know yourself and maybe that will prompt you to get to know yourself better."
Schofield said his love for acting drives him to write and perform these shows. As a man who has transitioned from female to male, there are very few roles that fit his physical appearance. As a result, Schofield continues to write and craft all his own performances.
The show also aims to create an open dialogue about the importance of inclusivity and acceptance.
SDSU history graduate student A.T. Furuya was hesitant to attend the event and was concerned it might incorrectly portray the transgender community.
"I think gender is fluid, it's a social construct, it's fake," Furuya, a transgender individual, said. "I don't personally feel like I was born with the gender I have right now, I think that it's something that develops over time."
After watching the performance, Furuya said it was enjoyable and liked the personal aspects of the show.
This performance was one of many events hosted by The Pride Center. The next event, called Java Night, will be a coffee social and discussion on Friday Oct. 17 at the Center. More information can be found online.
The article previously used the pronoun "she" to describe Furuya. Furuya doesn't identify with the pronoun "she" and prefers the gender pronouns they/them/theirs. The Daily Aztec apologizes for any confusion this may have caused.