Arts Alive adds color to campus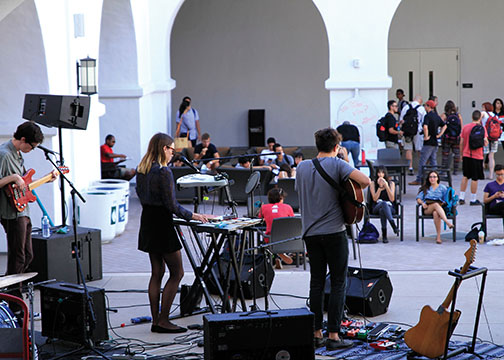 Being a college student can be difficult and time consuming. It's easy to get caught up in studying for the next big accounting midterm or finishing that research paper for a psychology class. When this happens, the beautiful, artistic and creative contributions of fellow students can easily be overlooked. Arts Alive is a new initiative created to help remind students of the important artistic and creative contributions being produced by their peers.
Arts Alive was brought onto San Diego State's campus at the beginning of 2014. This initiative is part of the strategic plan that was developed to help improve specific areas of SDSU. Areas of focus include neighborhood and community relations, entrepreneurial experiences and in the case of Arts Alive, campus art events.
"What the president's office and the strategic plan uncovered is that there is all of this amazing art happening but it kind of is the best kept secret on campus," current chair Dani Bedau said. "The mandate of Arts Alive SDSU is to go from having it be the best kept secret to having it be that every student, faculty, and staff member on campus has the opportunity to have a transformational experience with the arts over their course of time at SDSU."
Arts Alive is now implementing strategies to endorse and bring attention to these events. One strategy is the appearance of pop-up events. These events are short displays of creativity from various artists on campus, including dance, music, painting and more.
They are held at various times and places on campus. Sometimes they even pop up in places like Love Library, the Conrad Prebys Aztec Student Union and even at the weekly Thursday Farmer's Market. These events provide quick glimpses into what some of SDSU's student artists are capable of creating.
Many students may have noticed the sudden appearance of uniquely painted benches by the Music and Dramatic Arts buildings. Arts Alive commissioned the painting of these benches, which provide a splash of art to an everyday setting.
Liberal studies senior Annie Osborn is a student who has noticed the impact a small change like painting benches can have.
"As a full time student, I am on campus quite a bit," Osborn said. "The benches definitely stand out and give this campus more personality. Simple things like that really inspire people."
By integrating art into the everyday lives of students, the campus itself provides a tool in helping students get the most out of their college experience. Along with other endeavors, Arts Alive has plans to continue painting more benches, continuously increasing exposure to the arts.
Another focus of Arts Alive is to help the faculty intertwine the arts into their subjects. Regardless of the subject, the goal is to have professors encourage students to attend art events that connect with whatever they are studying. This allows students who are studying a subject that is not focused on the arts a chance to be exposed to some of the creativity on campus.
"We believe that (art) makes a campus a more open, welcome, and friendly place where people can be more themselves," Bedau said. "We're looking at really trying to help professors … understand the value of what integrating art into their syllabi can do to expand the dimension of the classes that they are already teaching without doing anything extra."
The Arts Alive initiative is still new to campus. Their website is in its developmental stages, but is expected to launch soon. A Twitter, Facebook and Instagram account are up however. Art spans cultures, pushes boundaries and expresses a person's innermost thoughts and ideas. Arts Alive reminds people of the positive impact creative expression can have on their education and lives.