Long's defense is in it for long haul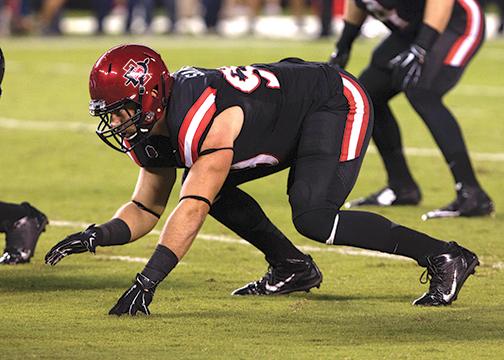 The San Diego State football team grinded out another win on Saturday by a less-than-favorable score margin against the University of Hawaii Rainbow Warriors.
It wasn't pretty, but we're at the point in the season when it's apparent this Aztec team isn't going to get many pretty victories.
Nevertheless, it's time we discuss and give credit to head coach Rocky Long's defense.
During the past few weeks, the Aztec defense has looked pretty darn good. The defensive line is getting decent pressure without the help of any exotic blitzes and the young secondary seems to be coming into its own.
Against California State University, Fresno, University of New Mexico and Hawaii, the Aztecs have allowed a combined 428 passing yards. That equals out to about 142 passing yards allowed per game, which is excellent.
According to ESPN, the Aztecs defense ranks 15th in the country in regard to points allowed per game at just less than 19. If that kind of stifling defense continues, the Aztecs can be in prime position to win the Mountain West Conference title at the end of the season.
"We won tonight," Long said after the game. "I don't think we can play like we did tonight and win the championship."
I'll give you that, coach. A less-than-stellar Hawaii team kept Saturday's game tight until the end, and the opponents the Aztecs face down the road are certainly of higher quality than the Rainbow Warriors.
Mediocre Mountain West rivals aside, the Aztec defense has done its job well through most of the season.
It's visible that the defensive backfield is growing up in a hurry. Sophomore defensive backs Damontae Kazee and Malik Smith both had interceptions against Hawaii late in the game when their team needed it most. Speaking of interceptions, through seven games this season, the Aztecs defense has picked off nine passes which is one more than it had in all of 2013. It suggests the players are buying into Long's system and philosophies, which hopefully will translate to a consistently improving defense each week.
The Rainbow Warriors only sustained one long touchdown drive the entire game and converted on only three of 13 third downs. They also were forced to punt six times, meaning the Aztec defense came up big in multiple situations throughout the game.
"OK great," you'll say. "But it was Hawaii, after all. It barely counts."
Wrong. When your offense is as lethargic as SDSU's has been recently, defense is the only thing that saves you in close games.
While sophomore running back Donnel Pumphrey lit up New Mexico and Hawaii, the passing offense simply isn't where it needs to be. It's worth noting the Aztecs' best wide receiver, senior Ezell Ruffin, has been out for multiple weeks and senior quarterback Quinn Kaehler has been dealing with an injured throwing shoulder. We can only hope Kaehler's two touchdowns and seven interceptions even themselves out as the season goes on.
Until then, the defense must continue to step up. A little bit more number crunching shows the Aztec defense has allowed a combined 414 rushing yards in its last three games, averaging out to 138 per game. The stats on rushing and passing yards allowed are only four yards apart, telling the story of a balanced and effective defensive attack.
As of now, SDSU is in sole possession of first place in the West division of the Mountain West Conference. Yes, you read that correctly.
The team has another upcoming bye week, which hopefully Kaehler, Ruffin and other injured players will use to get healthy and come back strong for the homecoming game against the University of Idaho on Nov. 8.