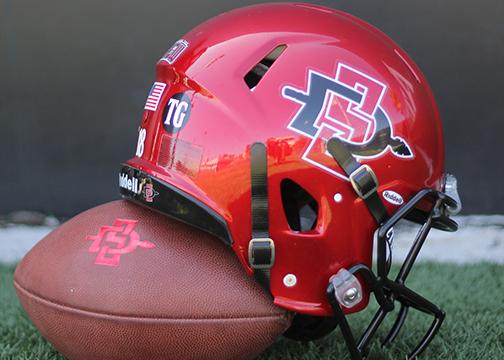 Laid lengthways one-dollar bill after another, the $81.7 million the University of Texas at Austin football team made in 2012-13 would span the distance between San Diego and New York more than three times.
Profits like these fuel the national debate on paying student-athletes, or "pay-for-play."
But not every Division I athletic department rakes in eight-figure profits. According to Department of Education statistics, some schools, such as the University of California, Los Angeles and University of New Mexico, barely broke even in the 2012-13 school year, the most recent year on the department's file.
The same statistics show San Diego State was one of those schools that broke even with zero profit in 2012-13. SDSU athletic department members are paying attention to the national pay-for-play debate and questioning if student-athlete compensation would work on Montezuma Mesa.
"We're absolutely monitoring it," said Kathy Van Wyk, head coach of SDSU's softball team. "Ninety-nine percent of athletic programs are in the red; we don't make money. That separation is where it's going to be difficult for us to keep up because (bigger athletic programs) have so much more money."
Some who oppose pay-for-play argue a free college education is more than enough compensation for a student-athlete's effort.
Syracuse University men's basketball coach Jim Boeheim expressed his views on the matter quite frankly at the 2013 New York Associated Press symposium, saying that pay-for-play is "the most idiotic suggestion of all time."
Wingate University Associate Professor of Sports Sciences Dennis A. Johnson echoed Boeheim's sentiment — but with a tad less zeal. In a 2012 article in The Sport Journal, Johnson wrote that some student-athletes receive up to $200,000 of total scholarship money, which he argued is ample compensation.
Johnson also reported that, according to census statistics, college graduates earn approximately $1 million more than nongraduates in a lifetime, making a college education worth more than tuition alone.
Johnson argued profits from big Division I men's basketball and football teams shouldn't turn into student-athletes' paychecks because they fund other sports that don't turn profits. He wrote that schools' unprofitable sports programs might disappear without that funding.
Now to the other side of the debate, where some proponents of pay-for-play argue colleges unfairly make millions from the free labor of student-athletes.
John Acquaviva, also an associate professor of sports sciences at Wingate University, wrote in opposition to Johnson in the same 2012 article in The Sport Journal.
Acquaviva argued student-athletes shouldn't be compared to other students in the pay-for-play debate because their college experiences are vastly different; athletic time commitments keep student-athletes from activities other students normally enjoy, such as concerts and school clubs.
In a 2013 issue of the Case Western Reserve Law Review, writer Marc Edelman cited a 2011 NCAA study's findings that support Acquaviva's statement: Division I football players reported spending an average of 43.3 weekly hours doing football-related activities.
Other pay-for-play supporters simply cite huge profits to support pay-for-play.
In his 2013 Time magazine cover story, Sean Gregory used the 12-year, $3 billion television contract the Pacific-12 Conference made with ESPN and Fox in 2011 to demonstrate how schools profit from their student-athletes' efforts.
NCAA President Mark Emmert has been advocating an annual stipend of $2,000 to $5,000 to cover student-athlete's miscellaneous college costs, such as traveling home to see family. His idea was initially shot down in December 2011 when 160 Division I schools signed to veto the proposal.
But according to Bob Moosbrugger, SDSU's associate athletic director for development and major gifts, the NCAA will allow schools to pay student-athletes annual stipends to cover those miscellaneous costs beginning in 2015-16. Pending NCAA approval, Moosbrugger said SDSU would give student-athletes an extra $2,100 next year.
Coach Van Wyk said she wholly supports this stipend, but she doesn't believe SDSU's student-athletes should get paid for their play.
"I'm fully against it," she said. "With the value of their education, road trips, food they eat on the road, clothing, medical services and academic services, (the SDSU athletic department) figured that $71,000 per year was spent on each student-athlete. You can't tell me these student-athletes aren't paid."
Time magazine's Gregory wrote that if pay-for-play were allowed, most schools would just pay teams producing the most profit. Department of Education statistics show the 2012-13 SDSU men's basketball made the largest profit over other SDSU sports by a large margin.
But according to Van Wyk, SDSU would have been flooded with Title IX lawsuits if it only paid men's basketball players. A part of the Education Amendments of 1972, Title IX is a federal law that protects gender equality in academic institutions.
Taking Title IX into consideration, Sports Illustrated constructed a pay-for-play model in 2011 that would pay all student-athletes equally. However, this model requires schools to cut unprofitable teams to create enough funds. If SDSU used this model, many teams could be cut. Department of Education statistics show all SDSU teams other than men's basketball ran a combined deficit of almost $2 million in 2012-13.
Matt D'Ambrosi, an SDSU senior and former Division II lacrosse player at the University of Tampa, said that while he understands the logic behind pay-for-play, he would not support a model that cuts teams.
"I think (cutting unprofitable teams) would be an absolute shame," he said. "Although we only hear about football and basketball, other people are putting in just as much time and heart."
According to CBS Sports' Matt Norlander, there's an ideal pay-for-play model that wouldn't force any teams to get cut: the Olympic model. Just like Olympic athletes, student-athletes would be able to profit off their name through things like sponsorships and memorabilia. For instance, SDSU basketball player Winston Shepard could be paid to sign autographs for an hour at a sporting goods store.
However, Livvi Sefton, four months removed from a four-year career on SDSU's swim team, said the Olympic model would add unwanted professionalism to the amateur college sports community.
"I think the whole thing about the student-athlete is that you're not professional," she said. "I think if you're in school, just focus on school. When you leave and you're professional, that's when you can have it all."
Van Wyk and Sefton agree on a pay-for-play model that seems fair: coaches sharing end-of-year bonuses with their teams.
According to USA Today's most recent data from 2013, SDSU head football coach Rocky Long has a maximum end-of-year bonus of $855,000 and head basketball coach Steve Fisher has one of $160,000.
Van Wyk said even this pay-for-play model would run into problems, though.
"I don't know how you'd regulate that because you're paying certain student-athletes but not paying others," she said. "You're still going to open yourself up for lawsuits."