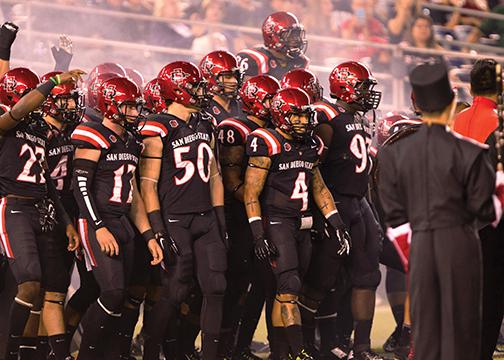 The San Diego State Aztecs (4-3, 3-1 Mountain West) took possession of first place in the MW west division Saturday night when they beat the University of Hawaii Rainbow Warriors (2-5, 1-1 MW) 20-10 at Qualcomm Stadium.
"There's momentum since we're in first place in our division," sophomore wide receiver Lloyd Mills said after the game. "We control our own destiny now."
The Aztecs and the Rainbow Warriors mirrored each other in their passing games with both quarterbacks throwing for 174 yards. But SDSU's ground attack, led by sophomore running back Donnel Pumphrey, ran for 182 yards and a touchdown against a Hawaii defense that entered the game allowing just 125.8 rushing yards per game.
"The most impressive thing is he's not very big but he runs hard," SDSU head coach Rocky Long said. "(He) runs hard between the tackles and breaks tackles, which most guys his size don't do. I'm glad he does."
The Aztecs jumped on top on their first drive of the game. Redshirt-freshman running back Marcus Stamps ran it for the first time since Week 1 and took it 34 yards down the visiting sideline to Hawaii's 30-yard line. Four plays later, Pumphrey ran 10 yards almost untouched through the middle to put the Aztecs ahead 7-0 with 9:44 left in the first quarter.
After a Hawaii three-and-out, SDSU pushed into Rainbow Warrior territory again, but a holding call stalled the drive and it settled for a 36-yard field goal by junior kicker Donny Hageman.
The Aztecs nearly shut out Hawaii in the first half. However, on third down with five seconds left in the second quarter, sophomore quarterback Ikaika Woolsey slung a pass 39 yards into the end zone. SDSU defensive backs and Hawaii receivers juggled the ball and it ultimately found the hands of sophomore wide receiver Marcus Kemp for the touchdown. The Aztecs entered halftime leading 10-7.
"The problem was our defensive backs tried to catch it underhanded like a punt returner instead of going up and getting the ball," Long said. "That's why (the touchdown) happened."
Aztec senior quarterback Quinn Kaehler completed seven of 15 passes for only 49 yards in the first half. But he completed all four of his passes for 91 yards and a 26-yard touchdown pass to Mills on SDSU's only scoring drive of the third quarter.
After missing two straight starts with a sprained right shoulder, Kaehler finished the night 13 of 24 for 174 yards and one touchdown, as he spread the ball to 10 different targets. At the post-game press conference, Kaehler said his shoulder was a little sore but it didn't hurt during the game.
Hawaii answered SDSU's touchdown with a methodical 16-play, 70-yard scoring drive that wound the clock down to 14 seconds in the third quarter.
The Rainbow Warriors ran six plays within SDSU's 20-yard line, but they couldn't punch it into the end zone and had to settle for another Hadden field goal.
The Aztecs led 17-10 at the end of three quarters and controlled the rest of the game. In fact, SDSU out-possessed Hawaii 12:11 to 2:49 in the fourth quarter.
Hageman missed a field goal from 31 yards out early in the fourth quarter, his first miss since Week 1. He redeemed himself though, with a 23-yard field goal set up by sophomore cornerback Damontae Kazee's first interception of the season.
Sophomore safety Malik Smith picked off Woolsey again with six minutes to go, sealing SDSU's 20-10 victory.
The Aztecs have now won five consecutive home games, the program's longest streak in 17 seasons.
This week is SDSU's second bye week of the season. The Aztecs will next play at 7:30 p.m. on Nov. 1. at the University of Nevada, Reno.
Long said he hopes senior wide receiver Ezell Ruffin will play against Nevada after missing five games with the broken collarbone he sustained against the University of North Carolina.