SDSU tennis tunes up at Southwest Regional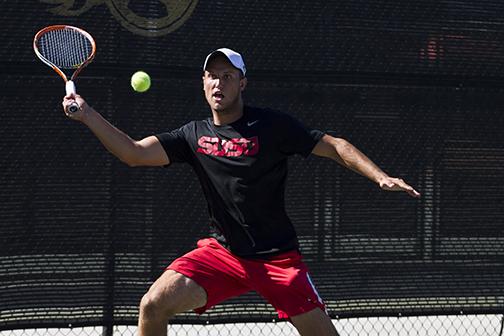 Eight members of the SDSU men's tennis team participated in the United States Tennis Association/Intercollegiate Tennis Association Southwest Regional Championships this weekend. Playing against some of the top teams in the region, the Aztecs ultimately fell short in the Round of 16 at Pepperdine University's Ralph-Straus Tennis Center.
SDSU senior and 122nd-ranked Thorsten Bertsch was the No. 8 seed in the singles draw. Bertsch and sophomore Jonas Meinzer received first-round byes before defeating their respected opponents in the Round of 64 on Friday.
Five players advanced to the singles main draw Round of 32 after defeating their opponents on the first day. With an impressive victory, sophomore Hendrick Jebens knocked off 67th-ranked Karue Sell of University of California, Los Angeles, 6-2, 6-4, in the Round of 64. In addition, Jebens defeated California Polytechnic State University, San Luis Obispo's Naveen Beasley, 6-3, 6-3 earlier in the tournament.
"I think we had a good preparation for this tournament," Meinzer said. "The coaches spent a lot of time with us as a team and also individually."
Sophomore Marko Goles-Babic also found success on the court, defeating UCLA's Michael Guzman in straight sets, 6-1, 6-1, before University of San Diego's Jordan Angus retired due to injury in the Round of 64.
Junior Freddy Gelbrich, sophomore Maxi Boewer-Stelter and freshman Santiago Cevallos were ousted in the Round of 128.
In doubles play, Bertsch and Goles-Babic took down Cal Poly's Devin Barber and Corey Pang, 8-4 in the Round of 64. After advancing to Round of 16, the duo suffered a close defeat to University of Southern California's Eric Johnson and Johnny Wang, 8-7. The unit of Gelbrich and Jebens fell short to University of San Diego.
Bertsch and Goles-Babic were the only two players to advance to the singles main draw on the final day of the tournament. Bertsch's Round-of-16 win against Pepperdine's Tom Hill in three sets, 6-4, 4-6, 6-1, qualified him to play No. 9-seed Martin Redlicki of UCLA on Sunday. In a competitive match, Bertsch lost to Redlicki 7-5, 6-4.
Goles-Babic also suffered a close lose to No. 4-seed and No. 47th-ranked Max de Vroome of USC, 6-4, 7-6, in the Round of 16.
Meinzer said regardless of the outcome of the tournament, the team plans to finish the fall campaign strongly.
"We all have to work to compete with more confidence and believe in ourselves," Meinzer said. "There were a lot of close matches against good players, but we have to improve the mental part so we are prepared to play and to win against good players."
The Aztecs will play in their final fall tournament on Nov. 6-9 at the ITA National Indoor Championships in Flushing Meadows, New York.