Zahn Center picks new batch of projects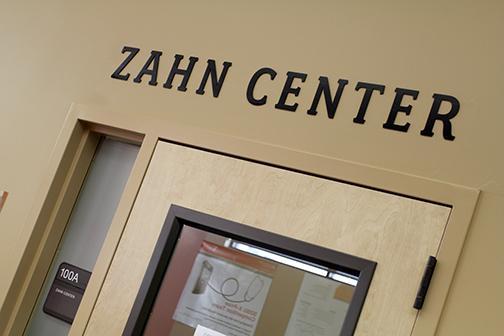 San Diego State's Zahn Innovation Center recently announced the newest batch of projects it will help develop. The eight projects range from medical innovations to on-campus Hispanic eateries.
Omar Miyazaki, marketing and admissions director for the Zahn Center, said 70 applicants submitted an online application for the latest cycle.
Of the 70 applicants, 12 were selected to give a presentation. This year's batch includes six student-led and two faculty-led projects.
Projects are selected based on a number of criteria, Miyazaki said.
"We make sure the applicants understand the problem they're seeking to solve, and we look at the strength of their solution, as well as their marketing and finances for the project," he said. "We also look at the team themselves to make sure they're committed and have a strong desire to work, because this can be a very long journey."
Joel Lopez is one of the founders of the Zahn Center project Aye! Que Rico!, which is an authentic Hispanic fruit and refreshment stand. He plans to start his project at SDSU and hopefully take it to other college campuses.
Lopez said he got the idea for the project after he noticed that most of the eateries on campus weren't culturally based.
"Everyone I talked to about the idea encouraged me to go for it," he said. "I wanted to bring some cultural diversity to campus."
Having grown up in Los Angeles, he grew up around foods such as raspados, a Mexican shaved-ice treat, and chamango, a drink with bits of mango mixed in. He seeks to bring these foods to SDSU.
Lopez said he stumbled upon the opportunity to be part of the Zahn Center accidentally, by overhearing a presentation that Miyazaki was giving to a group of potential applicants. Lopez thought it was part of a business class.
"But then I heard him say, 'If you've got a business idea you're interested in, go ahead and sign up on this sheet,' and I walked through the door straight to the sign-up sheet."
From there, he went through an application process he described as "intense."
"I was excited to get through the first round, but then they wanted me to give a PowerPoint presentation featuring things I hadn't thought about or even heard of – like I didn't know what a 'target market' was."
Despite this, he said the interview process taught him a lot about business and entrepreneurship. Now, Lopez has the chance to work with and learn from other entrepreneurs, who share the same enthusiasm for his project.
In addition to bringing cultural diversity, he hopes to inspire others to share their ideas.
"To anyone who has an idea, I say give it a shot," he said. "I kept my idea bottled in for so long because I was afraid it wasn't going to work."
Other Zahn Center projects include Genuis, a wearable patch to control mobile apps on a smartphone; SnapCardz, a mobile app that can quickly create flashcards so students can spend more time studying; and Gadget It, a social enterprise project to benefit women in Morocco who produce argan oil. In addition, Passbeat adds layers of security to password logins, and Hawier provides Western cultural education to Asian students studying abroad.
Faculty-led programs include HRGB Imaging Technologies, a high-resolution medical imaging process, and Scientific Rehab Solutions, a rehabilitation device built on a gaming platform for children.
The next application deadline is December 9, and the Zahn Center is now accepting applications.