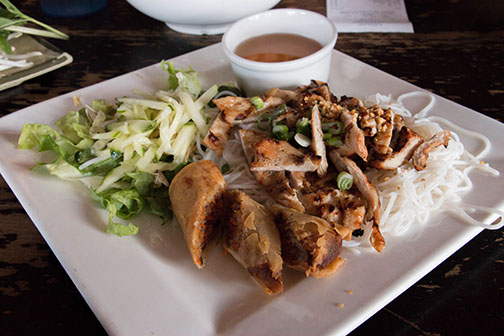 I love noodles, like really love noodles. Rice noodles, egg noodles, ramen, chow mein, even cup noodle. I love them all. Naturally, I was excited to go to OB Noodle House, a Vietnamese restaurant found in Ocean Beach. As a whole, it's definitely a good, complete restaurant, but there are a few things to look out for.
Even on a Monday afternoon, the restaurant is busy, something that's certainly a good sign. Despite this, my party was still able to get decent seating within five minutes of arriving. The inside of the restaurant is very nice this time of year, featuring fake spiders and cobwebs for the Halloween season. The interior isn't distinctly Asian, but you can certainly see hints of it like what's playing on the TV and the smells from the kitchen. The atmosphere and service are both above decent, which just leaves the food.
I was able to try out two dishes: the stir-fried crispy egg noodles with beef and the very rare steak pho. In case you're not familiar with these dishes, crispy egg noodles are best described as crunchy chow mein.
The steak pho consisted of a broth with rice noodles and almost undercooked steak that is meant to cook within the broth.
The pho was excellent. It came with a side of bean sprouts and a lime wedge, while the dish itself was sprinkled with green onions and thin steak strips. I've had some awful rice noodles in the past, but these certainly weren't. They weren't stuck together and had a great consistency. They come with extra noodles if you ask for them, something that I would have done if I wasn't so stuffed from the other food that I ate.
The second meal was the crispy egg noodles. It's a very high pile of various vegetables, beef and the noodles themselves, all drenched in brown sauce. When I say drenched, I mean drenched. I was more often looking for parts of the dish that weren't slathered in the stuff, only to be disappointed because of the amount of sauce on there. So personally, I'd either stay away from their crispy noodles or order it without sauce.
Despite the brown sauce flood that I encountered, this is a very good restaurant. The pho was great, the atmosphere was appropriate and the service was very speedy. I do wish that certain dishes weren't so overpowering, but there are definitely others to choose from. If you're in Ocean Beach looking for some good Vietnamese dining, I would absolutely recommend OB Noodle House.