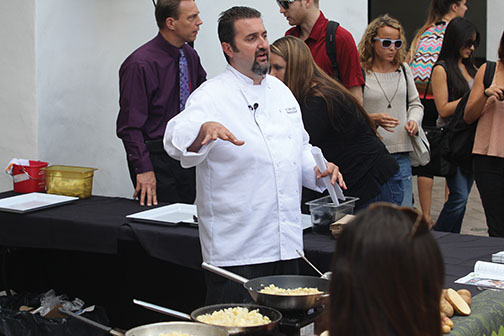 San Diego State's Dining Services hosted Cooking with Chefs, a potato-tasting event on Thursday Oct. 16 held at the Conrad Prebys Aztec Student Union. Aztecs savored a variety of free potato samples cooked by Dining Services Executive Chef Ed Glebus and Executive Sous-chef Justin Mead.
The chefs, along with their staff, prepared a variety of potato samples proving that potatoes can be more than fries or a bag of chips. Chef Glebus and Mead showed students an easy and delicious way to cook broccoli and cheddar hash with a russet potato. The warm, cheesy hash was a hit with students who rushed to taste it.
"It was really good, they should do it more often," freshman Jasmine Marquez said.
She and her friend tasted some steamed white potato salad with rosemary vinaigrette.
Students also tasted samples of purple roasted potatoes with a caramelized onion dip, mashed yukon potato with cabbage and bacon, braised mini potatoes and salt baked fingerlings with a spicy harissa mayo sauce. Mead said potatoes were chosen as the main ingredient because they are versatile and can be eaten for breakfast, lunch, and dinner.
As students enjoyed the samples, Glebus and Mead enlightened students with the history of potatoes. Students learned that potatoes, the world's fourth-largest food crop, was originally cultivated by the Inca Indians in Peru. Glebus also offered cooking tips such as not peeling the skins off the potato while cooking in order to preserve nutrients from the potato. Students were surprised when Glebus said potatoes should be stored outside because refrigeration causes a potato's starch to convert to sugar.
"It's important to educate the students," Glebus said. "Showing what Dining Services has to offer and the diversity of the things we do." Glebus said the main purpose of the event is to educate the students on the food they eat.
Tara Trakin, a nutrition graduate, works for Dining Services and attended the event.
"I just learned that you get 45 percent of your daily recommended intake of vitamin C with a potato," Trakin said.
Trakin also said she learned that potatoes can be blanched in cold water, a tip she will use to keep lumps out of mashed potatoes.
As a Dining Services employee Trakin said it was great seeing the chefs outside and cooking for students and, if possible, she would love to see the chefs cook some source of protein like chicken or salmon at the next Cooking with Chefs event.
Dining Services will continue to host Cooking with Chefs monthly.
"We have already gotten suggestions, a student wants us to do something with herbs and spices, so maybe we can include that next time," Glebus said.
The chefs are excited for what is to come. Glebus and Mead hope to host the next event in the middle of November. As for what will the chefs cook next, students will have to attend the next event to find out. One thing is promising though, the free samples will not disappoint.