Students use noodles to fight tuition hikes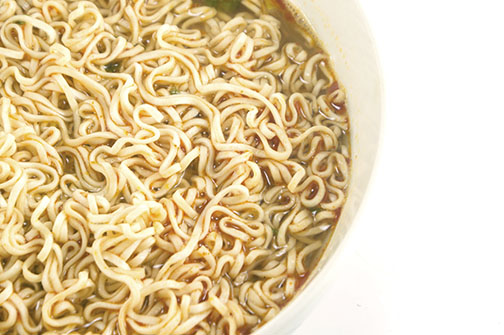 Approximately 60 students and community members delivered Cup Noodles to President Elliott Hirshman in protest of high tuition fees on Thursday, Oct. 23.
Students gathered in front of the Conrad Prebys Aztec Student Union with signs that read, "Weighed down by hunger" and "Last time I ate was about a week ago."
Members of Justice Overcoming Boundaries, a nonprofit organization; members of the Community Congregational Church; and high school students accompanied the SDSU students.
"High school students are here to show that we're not only talking about current students but also the future student population because this affects them too," lead organizer of Justice Overcoming Boundaries Christina Gonzales said.
SDSU students facing economic challenges and SDSU alumni who have experienced these hardships while attending the university spoke at the demonstration.
There is a lack of resources for homeless and hungry students on campus, forcing students to look to the community for help, community member Patricia Ruiz said in her speech.
"Friends depend on friends for their next meal," senior Jeanette Corrona said while holding Cup Noodles. "There is no reason we should be eating anything that is processed."
According to a press release by Justice Overcoming Boundaries, since 2002, SDSU tuition has increased 283 percent.
Tuition for fall 2014 is $3,433 for full-time students and $2,284 for part-time students.
For many students, paying for education has become difficult, forcing some students to sleep in cars or on couches, according to the press release. These students eat less than three meals a day and some only have a granola bar a day.
"When faced with such challenges, students are unable to focus on their studies and are at risk of dropping out of school completely," the press release stated. "At this rate, low to middle income students in San Diego will be priced out of SDSU completely, a university that has historically catered to the local community."
"No one should be treated as less than human because they can't afford the basic necessities in life," senior Sonia Rodriguez said.
On Thursday Students chanted, "No food to eat no place to stay, all because we cannot pay" while walking to President Hirshman's office.
The president was unable to meet with the students, so their next stop was Vice President of Student Affairs Eric Rivera's office. Rivera was not in his office, but the students left a letter for him and a few Cup Noodles.
The concerned students plan to meet with Rivera on Monday, Oct. 27, to talk about the resources some students need in order to succeed academically.
Justice Overcoming Boundaries will hold a meeting on Nov. 6 and the members hope Hirshman, Rivera and more SDSU students participate.