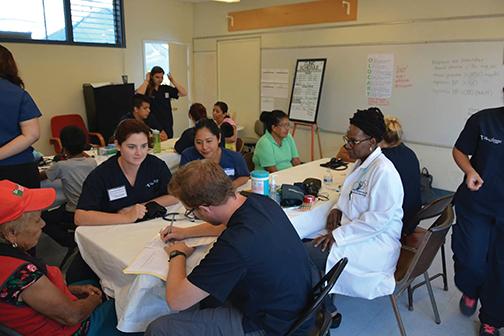 San Diego State's Flying Samaritans travel monthly to the impoverished community of Ejido Matamoros, Mexico, where they provide free medical care to patients. This organization's mix of students in health and medical related fields not only enjoy caring for patients, but they have a passion for serving others in the community.
"We all care about this field and service and we get to experience what it is to give your life to others," medical student and President of FS Adriana Celeste Guzman said.
FS, along with the guidance and help of health professionals, carpool every second Saturday of the month to Tijuana and the Ejido of Matamoros. Just fifteen minutes upon crossing the Otay, San Diego, border is a community in Matamoros that does not have the means necessary to see a doctor or to even buy medication.
"They are very poor, you cross the border and there are beautiful houses in gated communities, you drive a little further down and it's the complete opposite," medical student and FS Vice President Michael Bazzi said. "You start seeing houses that are just torn and people living in tents, something I wasn't used to seeing."
The community of Ejido Matamoros is one that FS has built a love for and the patients have built a love for them.
"They are honestly the best patients, I don't even speak Spanish and I still manage to communicate with hand gestures," Bazzi said. "They are so loving and grateful. The returning patients, especially the older ladies just want to hug and kiss you because they are so thankful."
FS takes their equipment and supplies to Matamoros and sets up a clinic at a church where they register the patients and use their skills to provide triage and lab, as well as pharmaceutical needs to about 50-70 patients. Many of the patients they treat suffer from diabetes and as high blood pressure.
Guzman says some of the patients that have diabetes and high blood pressure are not educated on what their diet should consist of and, even with the knowledge of proper eating habits, do not have the resources to buy healthy food.
FS public health committee chairs Jonah Gevercer and Elli Rezaii dovote time during the clinic educating patients and children on health concerns and healthy eating. Gevercer and Rezaii gather resources to provide informational pamphlets, health supply bags and food giveaways for patients.
Guzman says that the impact FS has made on this community would have been impossible without the consistent help of surgeon Dr. Danish Farook and physician assistant Lindsay Ambur, who both work in the San Diego community.
FS students have the opportunity to shadow doctors and health professionals that volunteer at the clinics and they get hands on experience with the patients. Bazzi, who is applying for medical school in the summer, says the exposure to medicine he has gained has been immense.
"I've been exposed to medicine in a setting that most people aren't used to, I could volunteer at a hospital, but I wouldn't be as involved with patients because of the regulations at hospitals," Bazzi said.
Bazzi is currently preparing for next month's hybrid clinic on Nov. 8, which will be focused on women's health and general health. Bazzi's goal is to have an OBGYN at the clinic to meet some of the women's needs at the clinic.
FS functions with the help of volunteers and the donations of local clinics who give medical supplies. The organization also puts a lot of effort into fundraising. Guzman says the funds allow the organization to fully thrive so they can provide their members and patients with the supplies necessary to work.
"It's a lot of work to gather resources, but the resources are there," Guzman said.  "It just takes initiative to do the work and provide this service to the community."
Running FS is tough work, but Guzman says it is well worth it because it has assured her that helping and serving others is what she wants to do with her life. Flying Samaritans is preparing future nurses, doctors and leaders who love serving and will one day be working in the medical and health community.
Guzman says that FS has shown great progression since the organization began in 2011.
"We have a solid consistent group now and it's a group that wants to improve patient care," Guzman said. "We have learned what the patients needs are and what the community needs are."