Powerfully pink was truly powerful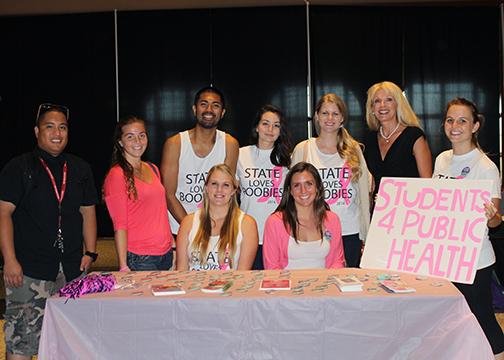 On Oct. 29, the Helen Knoll Foundation, a local San Diego-based non-profit organization partnered with both the Queer Student Union and Students for Public Health here at San Diego State to host an event, "SDSU: Powerfully Pink."
The event featured a presentation by nationally known surgeon, health expert and best selling author Dr. Christine Horner M.D., F.A.C.S., who discussed what every women should know about the causes of breast cancer, and the steps for the prevention of the disease. Dr. Horner emphasized the importance of making plants a part of an everyday diet because many green foods, such as green tea and broccoli, are key ingredients in decreasing the risks of breast cancer.
"Teen years are the most important years of your life," Dr. Horner said.
Although Horner's presentation was on a serious issue, she remained lighthearted throughout the event, joking sarcastically how alcohol, unfortunately, was not a health food.
After the presentation, K.O. Hip Hop team performed a short number, fittingly wearing pink eye-black and shoes with pink laces for an eager audience.
Next the event hosted a health and wellness fair, which featured information from various SDSU organizations including Active Minds, Students for Public Health and Queer Student Union, as well as other organizations such as Planned Parenthood: Generation Access Group and the Womyn's Outreach Association.
Intern executive director Rosemary Downing became involved with the Helen Knoll Foundation seven months ago after losing her grandmother to the disease.
"With the Helen Knoll Foundation, Women become empowered to take care of themselves," Downing said.
The audience was encouraged to walk around and ask questions and gather information from the participating organizations.
Husband  to Helen Knoll David Knoll and their daughter Laura Knoll founded the Helen Knoll Foundation in 2006 at the memorial service to commemorate the passing of Helen Knoll after her two long battles with breast cancer. Helen Knoll received a nursing degree from SDSU before working in the emergency room at Kaiser Medical Hospital. SDSU is listed as one of the colleges involved in the Helen Knoll Foundation outreach program because of the specific connection Knoll had during her attendance as a nursing student.
The Helen Knoll Foundation specializes in breast cancer prevention for women under the age of 40.
"For women 40 and over, the service offered for cancer detection is a mammogram," David Knoll said. "But what about the women under the age of 40? What do they have?"
The Helen Knoll Foundation wants to educate all women, but especially women under the age of 40 about the concept of education and early detection. Many women under the age of 40 don't know that there are other options for early detection besides a self-exam. As it turns out, there are breast cancer screenings offered for all women, which The Helen Knoll Foundation wishes to subsidize in the future.
"There should never be a feeling of inevitability. What I wish to offer is peace of mind to women, that there is a way to be proactive, that no women is ever doomed to breast cancer," Knoll said.