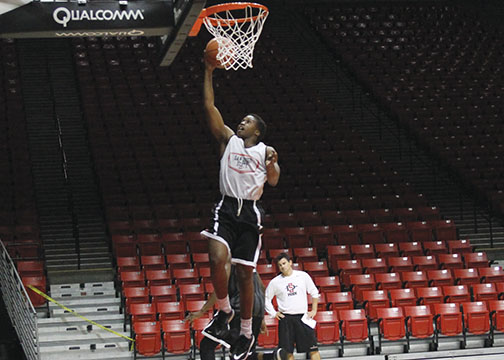 Kevin Zabo and his high school teammate Nik Stauskas got off the plane at the Phoenix Sky Harbor International Airport. They grabbed their luggage, walked outside and waited in the Phoenix heat for their ride.
Eventually their ride came: a little Range Rover with two-time NBA MVP Steve Nash behind the wheel. He welcomed the awe-struck boys into the car and drove them to the Phoenix Suns' practice facility.
That's how 14-year-old Zabo, now a freshman guard at San Diego State, started his three days with the future Hall of Fame point guard.
"I can definitely say only those three days I spent with him definitely changed a lot of my game," Zabo said last Thursday in the Fowler Athletic Center.
Zabo grew up in Gatineau, Quebec, Canada watching Nash school guys twice his size on a nightly basis. He believes Nash inspired many kids above the northern border to pick up a basketball, leading to the recent wave of Canadian basketball players joining the college and NBA ranks.
"We look at Steve Nash and it's not like he's quicker than anyone else, bigger than anyone else," Zabo said. "(Nash) gave (Canadian kids) motivation that it's possible."
Zabo learned he was going to play with his childhood hero during the summer after his freshman year at St. Marks School in Boston. He played a tournament with Grassroots Canada Elite Basketball, a youth basketball club based in Toronto, and impressed the club presidents — who just so happened to know Nash.
The club presidents asked Nash to meet with Zabo and Stauskas, and according to Zabo, Nash said yes immediately.
"When my dad gave me the news, at first I couldn't believe it," Zabo said with a smile. "I was just so excited. He's so busy and he made time for me and Nik (Stauskas), that was awesome."
The awe-struck boys sitting in Nash's Range Rover had only a little time to pick their jaws up off the ground, as Nash led them through two intense hour-long workouts soon after picking them up from the airport.
In between the workouts, Zabo said he and Stauskas went out to grab something to eat.
But not Nash.
Nash skipped grub time, Zabo said, and continued sweating away in the gym.
"He was (in the gym) the whole time," he said. "I was like, 'How does he do that?' You've got to be really strong mentally for that."
The following day, Nash brought Zabo and Stauskas to Phoenix's home stadium to work out. Standing on an NBA court for the first time, Zabo couldn't help but imagine NBA games he'd seen on TV happening all around him in between workouts.
"I'm a huge Kobe (Bryant) fan, and I remember back then the Lakers and Phoenix had a big rivalry," he said. "I was just looking at all those spots where things happened (in the rivalry games). Me and Nik (Stauskas) were just amazed by the experience."
Nash spent most of the next couple days drilling Zabo and Stauskas on basketball fundamentals and preaching the importance of hard work and persistence, Zabo said.
"You always have to make sure you outwork people — that was the biggest thing I got out of Steve Nash," he said. "Always make sure you put in the extra effort, be first in the gym and be last to leave."
Nash also gave the boys some drills to keep working on when they got home, and Zabo said he and Stauskas would go to school early every day during the next season to do the drills over and over again.
Well, it appears those drills have worked so far.
Three years later, Nash's former pupils find themselves in pretty good situations. Stauskas plays for the Sacramento Kings and Zabo could potentially start for the Associated Press No. 16 team in the country — a team with big-time goals.
"Every time we huddle up we say, 'Final Four,'" Zabo said. "Final Four is the goal and every day we just remind ourselves, even when we're tired. We look at Kansas and Kentucky and the big programs and they never take a day off, so we have to be at the same level."