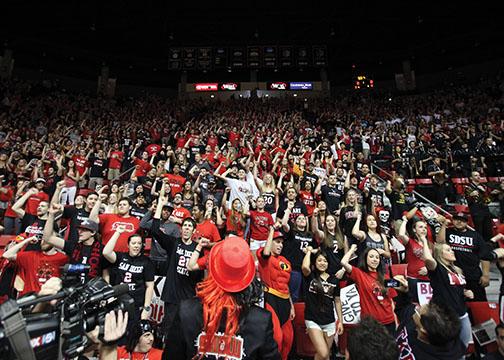 The San Diego State Aztecs.
Champs of the Mountain West where they cut down the nets. 
Welcome to the most hostile nest in the west. 
There's a show in town and it's not on the court.
It's like no other, scarlet and black.
It roots for the Aztecs — and that's a fact.
Make no mistake, it's not for the faint.
The students' faces smeared with black and red war paint. 
In San Diego, the weather is sunny.
But this section's attitude? 
It's not even funny. 
It's a student section so far and beyond.
It tells opposing teams to get off its lawn. 
Welcome to "The Show."
Those 100 words of poetry go out to maybe the most unique and fiercest student section in the country. Ever since I transferred to San Diego State, "The Show" has been a fixture of Aztec athletics — especially when it comes to the basketball team.
In the handful of times I've attended men's basketball games at Viejas Arena, it was the x-factor in both the games and the atmosphere. From tip-off to the final whistle, the intensity from the student section rippled through the rest of the crowd to help scream its team to victory.
But "The Show" is only one piece of the puzzle. Viejas Arena is special, and the Aztecs thrive when they have home-court advantage. Since the 2012 season, the Aztecs are 29-2 when they play at home.
I've always thought the architecture of Viejas Arena fit the Aztec mold nicely. Fans enter at the top of the arena and begin a steep descent into their seating sections. The steepness of the stairs reminds me somewhat of an inverted Aztec temple where spectators may have looked down at a sacrifice.
Sadistic? A little bit, but I'll be damned if the Aztecs don't full-on slaughter a few teams in that arena this season. If you didn't notice, the team is ranked No. 16 in the preseason and has a real shot to get to the Final Four. One could even say an appearance in the Final Four is expected.
But enough of that — this issue of The Daily Aztec is already packed with stuff about the actual team. Let's get back to its natural habitat.
The Aztecs feed, if you will, on hype; the game-time atmosphere at Viejas Arena provides plenty of it. Being at a game is an experience I'll likely remember for the rest of my life. As an Aztec-for-life, you owe it to yourself to go to a game or two even if you don't like basketball.
And don't forget the crucial chant. It goes like this: I Believe That We Will Win.