Aztecs advance to MW Championship in thriller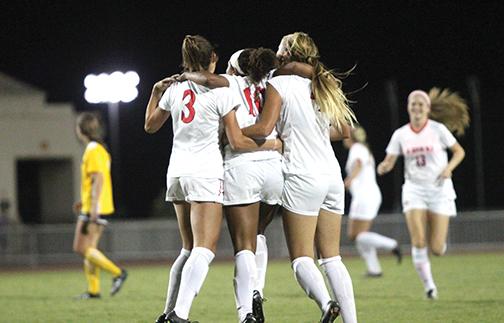 San Diego State's women's soccer team snuffed out a close win against Colorado College in the semi-finals of the Mountain West Tournament at the SDSU Sports Deck, beating the Tigers 3-2 in penalty kicks after playing to a 1-1 draw in regulation and overtime.
The Aztecs' strong home record, 28-5-4 since 2012, and similar position to the last time they played Colorado College had Aztecs head coach Mike Friesen feeling calm, even in a win-or-go-home situation.
"The game was actually very similar to the first time we played them," Friesen said. "At halftime we were talking about it, and were in the same situation against this team, and we came away with a 3-0 win."
The current situation that Friesen was referring to was being down 1-0 going into halftime. They'd only accumulated two shots, while Colorado College had 10.
"We knew we were still in the game, and that there was a lot left to play, and we felt like if possessed the ball a little more in the second half we would have our chance."
SDSU got its chance in the 57th minute when senior forward Haley Locker scored on a give and go from sophomore forward Morgan Darling from four yards out .
That would be the only score of the half as SDSU held the Tigers to four shots in the second half and forcing the semifinal match into overtime.
In overtime, the Aztecs managed to get three shots but were not able to put one in the back of the net.
After 120 minutes of back-and-forth football, the contest would be determined by a penalty kick shootout.
"The interesting part about (penalty kicks) is you go from this hyper and crazy environment trying to get a goal, to basically a set-piece," Friesen said. "You have to change your mind-set to calm down and follow through with what your plan is."
The Aztecs followed their plan to perfection as junior keeper Melanie Vaughn sealed the game with a punch-save, sending the Aztecs to their third straight MW title game where they will play the University of Wyoming at 7 p.m. on Saturday at the SDSU Sports Deck.
"One of the things we want to do is be a consistent performer in the NCAA tournament, and we believe we have to win on Saturday to get there," Friesen said. "It's an important game for the program, and an important game in terms of all the work we have put in so far this season."